Seasonal Summer Vegetables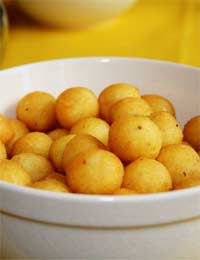 What seasonal food should we be eating now? Here are some of our favourite recipes for summer vegetable dishes.
What's in Season?
The list of seasonal food grows in summer, with things like basil and tomatoes, rocket and raspberries becoming available. Choosing seasonal food isn't just cheap at this time of year, it's also delicious. Here's a reminder of the produce available, plus recipes and suggestions for eating it all...
Enjoying New Potatoes
New potatoes begin in late spring but their season runs right through summer, with late main crops such as Anya and Pink Fir Apple becoming available for barbecue season. So you can enjoy the freshest new potatoes for a good few months, and why not? New potatoes are perfect for potato salads. Try making your own basil pesto (crush basil with garlic, pine nuts, olive oil, salt and parmesan) and tossing it through just-warm steamed potatoes. Warm or cool, it's a fabulous summer salad.
Cooking with Sweet Peppers
Peperonata is a traditional dish from Southern Italy. It's a delicious accompaniment for sausages, which makes it ideal for the barbecue table. There are many recipes available online to get you started. Or you could try our version, inspired by a Hungarian recipe written by Diana Henry.
HOW TO MAKE: Soften 3-4 sliced peppers (red, orange or yellow) with a sliced onion in a generous splash of olive oil, letting them cook slowly and softly for at least 20 minutes. Stir in 2tsp Hungarian paprika, 1tbsp red wine vinegar and 1tbsp brown sugar, and let cook for a few more minutes to blend the flavours and soften the vinegar. Serve warm or cold with bread and sausages.
Cooking with Runner and Haricot Beans
Bored of steamed runner beans with everything? Slice runner beans thinly and toss them with a shallot vinaigrette to make a fresh and vibrant salad. If you have haricot beans available to you, you needn't wait for them to dry before enjoying them. Try our favourite bean dish alongside a roasted leg of lamb.
HOW TO MAKE: Pod the white beans to get 3 cups and drop into boiling water, then cook until they're just tender (10-30 minutes, depending how fresh they are). Meanwhile, finely slice 2 young leeks and put them into a large baking dish with 2tsp grain mustard and a 200g tub of crème fraiche (farm-produced, if possible, for the most unctuous texture). Drain the beans and add them to the dish, sprinkle with 1tsp coarse salt and pepper, and stir to combine. Cover with foil and bake for 30 minutes at 160 degrees, removing the cover to brown the top in the final 10 minutes.
Raspberries and Strawberries
There are countless recipes for enjoying raspberries and strawberries, if you don't eat them straight from the sink. One of our favourite ideas is to gently simmer the raspberries with a little icing sugar, then press through a sieve over washed and chopped strawberries. In her comprehensive book on Italian cookery, Anna del Conte suggests marinating chopped strawberries in freshly-squeezed orange juice and white wine. However you eat your strawberries, we think chilled bubbly is an essential accompaniment...
You might also like...