Recipe Ideas for Summer Baking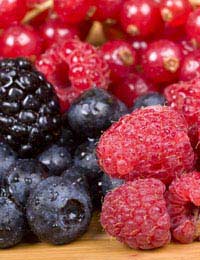 It's summer – are you in the mood for some home baking? Try our delicious recipes for fruit pavlovas and blueberry muffins. Even if there's no sunshine, your house will be filled with the scents of summer!
What's in Season for Bakers?
Raspberries, strawberries, gooseberries, blackcurrants, cherries, grapes and elderflowers are all in season during the summer months. This is the time to indulge in some home baking. Try a classic Victoria sponge filled with your favourite berries; morning muffins fragrant with lemon and studded with raspberries; or a luscious lemon loaf cake with sticky orange glaze. So put on your apron, make one of our summer recipes, then take it out into the garden and enjoy with the family!
Lemon Zest and Hazelnut Cookies
These lovely cookies are fantastic with vanilla ice-cream or simply served as a summer snack. Oh, and they taste fabulous alongside a small glass of chilled Limoncello, too...
3oz butter, softened (leave it at room temperature for an hour before baking)
2oz caster sugar
4oz self-raising flour, sifted
2oz hazelnuts
Pinch salt
1tsp lemon zest
Preheat the oven to 180ºC and grease two baking trays.
In a large bowl, cream together the butter and sugar (if you don't have an electric whisk to do this, you can use your hands!) until pale and fluffy. Sift over the flour. Roughly chop the hazelnuts and tip them into the bowl with a pinch of table salt and the lemon zest. Now combine everything until you have a soft dough. Break off tablespoon-sized pieces and place on the baking trays. The cookies will spread and flatten as they cook. Bake for 10-15 minutes, or until lightly golden, then cool on racks.
You could change the flavour of these biscuits by using lime or orange zest, different nuts, or chocolate chips.
Fruit-filled Meringues
We've suggested a raspberry-strawberry combination, but you can fill these meringues with double cream and any summer fruit that you love.
2 egg whites
4oz caster sugar
1/3 tsp vinegar
1 punnet strawberries
1 punnet raspberries
8floz double cream
Fresh mint and icing sugar, to decorate
Preheat the oven to 140ºC.
Put the egg whites into a large, roomy bowl and start to whip. When they are forming soft peaks, add 1tbsp of sugar and continue whipping. Add the rest of the sugar in three parts, whipping between additions. Fold in the vinegar. Now place spoonfuls of meringue onto a greased baking tray, swirling them to create individual nests.
Put the tray into the oven, set the timer for thirty minutes, and then switch off the oven. Leave the meringues until the oven is completely cooled.
While they're cooling, prepare the fruit. Wash, hull and chop the strawberries and put them in a large bowl. Wash the raspberries and put them into a small saucepan, with a splash of water, and bring to a gentle simmer. Cook until the raspberries are soft and mushy, then press them through a sieve to get a smooth coulis.
Stir in icing sugar to taste (the coulis should still be quite sharp). Pour the coulis over the strawberries and toss to coat.
Finally, whip the cream, pile a little in each meringue nest, and top with the fruit. You can garnish with fresh mint, if liked, and dust with icing sugar for a pretty finish.
You might also like...
I thought this website was very Convenientbecause i had 7 year old guests round and had to entertain them. The recipies on this website kept them entertained for hours, and i finaly did get to sit out in the sunshine!:) i would definetly recomened this website!!!!:)
meggarooni
- 26-Jul-12 @ 3:46 PM