Recipes for Summer Fruits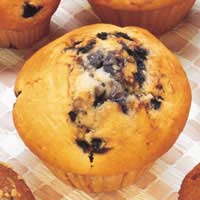 When summer approaches, getting our 'five a day' gets a lot easier. We're spoilt for choice – with homegrown strawberries, raspberries, blueberries and peaches on offer at home and market.
Relaxing in front of Wimbledon with a bowl of strawberries is an easy way to enjoy British fruit – but try our seasonal recipes if you're in the mood for something more unusual.
Blueberry Crunch Muffins
Our favourite version of this classic recipe is loaded with more blueberries than most recipes - and topped with a nutty crumble that provides a delicious crunch in every mouthful. Fresh blueberries are available in the summer months, but these berries (unlike strawberries) also keep well in the freezer. So buy blueberries when they're in season and stash them in the freezer to use for as long as possible!
For the Crunch Topping
2oz pecans, roughly chopped
2oz demarara sugar
2oz caster sugar
2oz plain flour
2 ½ oz butter
1/4tsp salt
For the Muffins
3oz butter, at room temperature
5oz caster sugar
Grated zest of ½ orange
9oz plain flour
1/2tsp cinnamon
2 tsp baking powder
1/2tsp bicarbonate of soda
1/4 tsp salt
2 eggs
1tsp vanilla extract
70ml milk
2tbsp juice from the orange
5oz blueberries mixed with 2tsp plain flour
Preheat the oven to 170 degrees C, gas mark 3-4. Combine the crunch ingredients, except for the nuts, in a bowl and rub with your fingers until they are clumping together. Stir in the nuts and set aside.
In a food processor or with an electric whisk, beat the butter, sugar and orange zest until soft and creamy. Add the eggs, one at a time, and beat thoroughly. Add the vanilla extract. Now sift in the flour, cinnamon, baking powder, bicarb and salt. Beat briefly before adding the milk and orange juice. You will have a fairly stiff batter. Fold in the blueberries.
Line one (or two if possible) 6-hole muffin tray with cases and fill them 2/3 with the batter (you will have enough to make 12-18 muffins in total, depending on the size of your tin). Sprinkle half of the crunch mixture over the top and put the tray into the oven for 25-35 minutes, or until the muffins are golden and crisp on top.
Peach Margharita
This deliciously fresh and fruity cocktail is perfect for Sunday afternoons in the back garden! If you find fresh peaches for sale at your local grocer or farm market, make up the puree and freeze in an ice-cube tray for future margharita days...
Makes One Margharita
Juice of half a lime
1 peach, peeled
50ml golden Tequila
15ml Cointreau
Sugar, to garnish
First, make the peach puree. Put the chopped peach pieces and the lime juice into a blender (multiply this amount if you wish to make extra for the freezer) and whiz until smooth. Scrape the puree into a cocktail shaker and add the Tequila, the Cointreau, and a good handful of ice cubes. Put on the lid and shake vigorously to combine and chill the mixture. Use the remaining half lime to rub around the top of your cocktail glass. Put some sugar onto a saucer and dip your glass in it to get a sugar-frosted lip on the glass. Now strain the cocktail into the glass, add a straw and lime wedge if liked, and enjoy!
You might also like...