Recipes for New Potatoes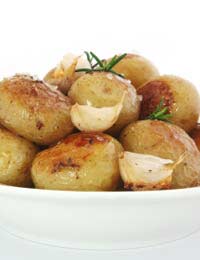 Looking for recipes to make the most of the season's new potatoes? It's the very best time to cook and eat potatoes, so try something new and exciting. Here are our favourite recipes for new potatoes.
Steam, Boil or Bake?
It's difficult to prepare new potatoes 'wrongly' – they will taste delicious whatever you do to them! If you boil new potatoes, use only a little water (or try our 'self-braising' recipe below) and don't salt until the end – otherwise you risk having tougher skins. Steaming is a good way to retain the flavour, and baking will give you a rewardingly crusty finish. Struggling to choose your favourite? Here are three of our favourite recipes. All of these dishes taste great on their own (glass of wine optional)!
Self-braised New Potatoes
Renowned English cookery writer Jane Grigson specialised in the simple cooking of seasonal vegetables – her recipes are usually simple and often revelatory. Try her technique for cooking potatoes in their own 'juices'. Wash your potatoes and arrange them in a single layer in a heavy-based saucepan. Dot with 2tsp of butter and sprinkle with 2-3tbsp water. Cover the pan with greaseproof paper and put on the lid, then bring gently to simmering point (you can lift the lid to check). Turn the heat right down and leave the potatoes to cook very slowly until tender (about 20-25 minutes). You might be surprised how different these potatoes taste to traditionally-boiled spuds! Season the potatoes before serving.
Roasted New Potatoes, Middle Eastern Style
If you're roasting new potatoes, try adding some unusual flavours – this recipe goes well with a Lebanese pilaf or Moroccan tagine. This recipe, adapted from Claudia Roden's, serves 2 hungry people or 4 as a side dish.
500g new potatoes
3tbsp good olive oil
2 cloves garlic, in their skins, smashed with the blade of a knife
Juice of ½ lemon
2tbsp chopped fresh coriander
Salt and pepper
Preheat the oven to 220 degrees C. Wash the potatoes and cut any larger ones so the pieces are all roughly the same size. Put into an ovenproof dish and toss with the olive oil, garlic, salt and pepper. Roast for 30-40 minutes or until golden and brown, shaking the dish halfway through the cooking time. Sprinkle with lemon juice and coriander, toss gently, and serve.
Spicy New Potatoes – Patatas Bravas
You'll find this dish on tapas menus everywhere. It's a potato dish that has become a favourite all over the world. Serve it with other tapas (including parma ham, artichokes and chorizo). You can add chorizo and/or bacon to the recipe, as is popular in Spain.
500g small new potatoes
4tbsp olive oil
1tbsp white wine vinegar
1tsp Spanish paprika (smoked paprika is good)
1 clove garlic, crushed
1tsp chilli powder
Salt and pepper
Chopped parsley (optional)
Boil the scrubbed potatoes for about 15-20 minutes or until just tender. Slice them into 1cm pieces. In a wide frying pan, heat 2tbsp of the olive oil and sauté the potatoes until they are golden. Transfer to a wide dish or plate. Mix the remaining ingredients in a small jug and drizzle over the potatoes, tossing them gently. Season to taste, and garnish with parsley if liked. Serve warm or at room temperature.
You might also like...