Recipes for a Courgette Glut!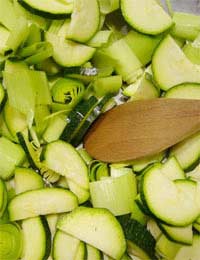 Are you faced with a barrowful of courgettes? Here are some recipes to help you enjoy your harvest.
Growing and Harvesting Courgettes
Just three or four plants will provide enough courgettes for a couple or a small family. That's why many people find they have a glut in the summer! To maximise enjoyment of your courgettes, pick the first ones very small (about 12cm) – they'll be firm and flavourful – and steam or sauté, perhaps with a few baby leeks. You can also pick some of the flowers, which are now regarded as a gourmet treat: stuff gently with ricotta and parmesan and deep-fry. Do try not to let your courgettes grow into marrows, as these larger fruits become watery and tasteless. A size of about 20cm is the best for recipes. When the plants start producing enough for a generous harvest, try some of our recipes below.
Here are some of the recipes we've tried with our own courgette gluts:
Courgette Carbonara - A great veggie version of the classic, and so easy to make: slice two medium courgettes lengthways, brush with good olive oil, season, and griddle on a hotplate until charred. Sprinkle on some pine nuts in the last two minutes so they get toasty brown. Meanwhile, put 2 portions of tagliatelle on to cook. In a jug beat an egg yolk with a cupful of grated Pecorino cheese. Drain the tagliatelle and return to the pan with the egg/cheese and a crushed clove of garlic. Stir it until the egg yolk thickens and clings to the pasta; then gently stir in the courgette strips and some chopped parsley (or rocket), if you have any. For meat-eaters, add some diced pancetta or crispy bacon to the pasta before serving.
Stuffed Courgettes - This easy and adaptable dish comes from the Lebanese tradition; it's inspired by an Anissa Helou recipe. Make stuffing by combining 200g uncooked lamb mince and 100g short-grain white rice, adding seasoning and 2tbsp water to bind. Stuff into hollowed courgettes (take off the top and use a corer to remove the watery flesh). Put them upright in a large pan, add water to come halfway up the sides of the courgettes, then cover and simmer for 20-30 minutes. Serve with tomato or yoghurt sauce.
Quick Courgette Pizza - Cook the courgettes in thin slices as described below, and spread them over a pre-made pizza base. Top with crumbled feta or goat's cheese and sprinkle with red wine vinegar before cooking in a hot oven to get a crispy, golden flatbread-style pizza.
Courgette Salad
It may sound odd, but this surprisingly delicious salad is a great summer lunch. It's inspired by a River Cafe dish. Try serving it with tomato-dimpled focaccia (see Recipes for Tomatoes), or put a big bowl of it on the barbecue table. Children who like salt and vinegar crisps might enjoy this courgette recipe!
4 medium courgettes, cut into rounds as thin as possible
Olive oil, for frying
1 clove garlic
1tsp salt (or more to taste)
1tsbp red wine vinegar
4tbsp olive oil
1tbsp chopped fresh mint
Preheat a frying pan with a generous splash of olive oil. Fry a few courgette slices at a time, being careful not to overcrowd the pan. Cook until the slices start to turn golden and their edges turn up. As they're cooked, remove the slices to a couple of sheets of kitchen towel so they can drain and crisp up.
When all the courgettes are cooked, make the dressing. Crush the garlic with the salt until you have a smooth paste; stir in the vinegar and then whisk in the olive oil. Whisk until the dressing is emulsified and taste it for seasoning. Now spread the courgette slices on a large plate and sprinkle with the dressing. Finish with the finely-chopped mint and serve at room temperature.
You might also like...