Great Summer Salads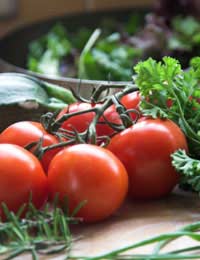 A salad is just what's needed in the hot days of summer – if we get any. There is plenty of seasonal food available that's simply perfect for salads, and you don't have to stick to the boring lettuce-and-tomato type!
Making a Seasonal Salad Platter
Antipasto, mezze, tapas – these European terms refer to the same thing: a collection of small bowls of food. This includes salads, vegetables, and other seasonal treats which are designed to be eaten slowly and pleasurably before a meal. It's so easy to put together for a summer party or family lunch – and it's the perfect way to enjoy your produce from a Farmer's Market. Arrange on your largest plate a selection of the following salads:
Fresh Tomato and Mozzarella Salad
TO MAKE: Assemble sliced or halved tomatoes (the reddest you can find), drizzle with olive oil, and sprinkle with salt and pepper – then finish with torn chunks of the freshest mozzarella you can buy.
Roasted pepper platter
TO MAKE: Roast or grill halved peppers, skin up, until blackened. Put into a plastic bag and seal for a few minutes, then open it – the skins will be easy to remove. Cut the roasted peppers into rough strips, and drizzle with olive oil and fruity balsamic vinegar.
Cucumber Salad
TO MAKE: Peel, then slice or chop a cucumber, and scoop out the soft seeds with a teaspoon. Put the remaining cucumber into a bowl and dress with fresh mint, salt and pepper. A dollop of yoghurt on top makes it perfect.
Shallot and potato salad
TO MAKE: Make the most of summer shallots and new potatoes with a beautiful salad combining the two. Make sure your shallots are finely chopped, parboil the potatoes, and while still hot, dress with a simple vinaigrette (2tsp salt, 2tsp wholegrain mustard, 2tbsp cider vinegar, and 5floz olive oil). Garnish with fresh chives.
Griddled aubergine salad
TO MAKE: Slice an aubergine (there's no need to salt with most modern varieties) and marinate the slices in a mixture of olive oil, crushed coriander seeds, and a splash of lemon juice. Put onto a hot griddle until the slices have charred stripes, then put onto a plate or bowl and sprinkle with fresh mint and a little more lemon juice.
Warm Courgette Salad
Who says a salad needs lettuce in it? This is a lovely variation on a summer side dish from the River Café. Serve it as part of the platter, above, or accompanied by rosemary focaccia. If mint doesn't appeal, try using coriander or rosemary, chopped very finely. This recipe works well with aubergines, too.
You need:
1 clove garlic
2tbsp red wine vinegar
1 tsp dried chili flakes
Salt and pepper
2tbsp fresh herbs – coriander, mint or rosemary – chopped finely
2tbsp olive oil
2 large courgettes, sliced very finely
Sunflower or groundnut oil for frying
Using a pestle and mortar, crush the garlic to a paste and stir in the chili and vinegar, then some salt and pepper. Transfer to a small jar and add the oil and herbs, then shake to thoroughly combine – this is the dressing.
Slice the courgettes as finely as you can, or use a mandolin to get wafer-thin slices. Heat a couple of inches of oil in a wide pan and deep-fry the slices, a few at a time, until they brown. Lift out with a slotted spoon and put immediately onto kitchen towel. When you've cooked the batch, put them on a wide serving dish and drizzle with the dressing. Serve straight away or at room temperature.
You might also like...