Main Meals for the Summer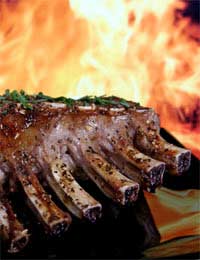 Summer food should be simple to prepare, easy to eat and light on the stomach. You don't want to be spending sunny days in a hot kitchen or eating stews that will weigh you down before your game of tennis!
We've some seasonal food recipes that will fit the bill perfectly.
Chicken with Courgettes
4 chicken joints
Salt and pepper
3 oz butter, softened
1 tablespoon parsley, finely chopped
1 clove garlic, peeled and finely chopped
Juice ½ lemon
3 small courgettes
Preheat the oven to 180ºC, gas mark 4.
Season the chicken joints and put them in a large roasting tin. Mix together the butter, garlic, parsley and lemon juice. Spread over the chicken joints. Place in the oven and bake.
Meanwhile trim the courgettes and slice thickly. Blanch in boiling water for 2 minutes. Drain well and, after the chicken has been cooking for 15 minutes, add the courgettes. Baste them with the melting butter. Return to the oven and continue cooking for about 45 minutes or until the chicken is cooked through.
Ribs in Barbecue Sauce
2 lb pork ribs (most supermarkets now sell ribs – look for meaty ones)
Salt
1 tablespoon oil
1 large onion
4 tablespoons tomato ketchup
2 tablespoons vinegar
1 tablespoon sugar
1 teaspoon mustard
1 tablespoon Worcestershire sauce
Preheat the oven to 200ºC, gas mark 6.
Place the ribs in a large roasting tin and sprinkle with salt. Cook in the oven for about 30 minutes. Meanwhile to make the sauce, peel and finely chop the onion. Fry in oil until soft and translucent. Add the remaining ingredients and stir well. Bring to the boil and remove from the heat.
Drain off any excess fat from the ribs before covering them with the sauce. Cook for another 45-55 minutes. Cover with foil if the sauce begins to stick and burn.
Serve with fried vegetable rice.
Mackerel with Gooseberry Sauce
1 lb gooseberries
2 tablespoons water
½ oz butter
1 oz caster sugar
4 mackerel, filleted (the fishmonger will do this for you)
Freshly ground salt and pepper
Olive oil
First prepare the sauce. Top and tail the gooseberries and place in a small saucepan. Add the water and butter, cover and simmer very gently until the gooseberries are soft. Rub the fruit through a sieve to make a puree. Return this to the pan with the sugar and cook gently for a few minutes. Serve hot with fish.
Season the mackerel fillets and brush with a little oil. Cook skin-side up under a grill until done to your liking.
Chicken Caesar Salad
Croutons
3 thick slices white bread
4 tablespoons olive oil
2 cloves garlic, peeled and finely chopped
Freshly ground salt and pepper
2 skinned boned chicken breasts
Olive oil
Parmesan cheese (freshly grated if possible)
1 large Romaine lettuce
Dressing
½ cup olive oil
1 clove garlic, peeled and finely chopped
1 egg
3 anchovies or some anchovy paste (optional and to taste)
1 teaspoon Worcestershire sauce
1 teaspoon vinegar
1 teaspoon lemon juice
To make the croutons, first preheat the oven to 200ºC, gas mark 6.
Remove the crusts from the bread and cube. Place the oil in a bowl and add the garlic and seasoning. Mix well. Add the bread and mix again, ensuring all the croutons are well-coated. Place on a baking tray and cook in the oven for about 10 minutes. Allow to cool.
Brush the chicken pieces with oil and season. Cook under a preheated grill until thoroughly done. Allow to cool and then cut into thin strips.
Make the dressing by placing all the ingredients in a blender and whizzing for a few seconds. Alternatively mash the garlic and anchovies together and place in a screw-topped jar. Add the remaining dressing ingredients and shake well.
Wipe the lettuce leaves and place in a salad bowl. Add the chicken strips and grated parmesan to taste. Add the dressing and toss together. Finally add the croutons and mix in.
If you're short of time, ready-made croutons are available in supermarkets, as are bottles of Caesar salad dressing.
You might also like...