Seasonal Summer Starters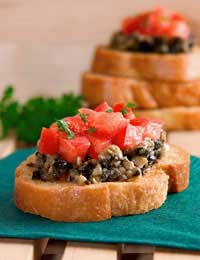 If we get a good summer, preparing a three-course meal might be the last thing on your mind. But the season is perfect for entertaining. It's just a matter of clever planning: choose a no-cook starter and an easy fruit dessert and then fire up the barbecue for a hassle-free menu. Here are some of our favourite summer starters that make the most of seasonal ingredients.
What's in Season?
Because summer offers a prolific crop of produce, it's easier than ever to make a no-cook starter. Wash some fresh radish, celery, spring onions and new carrots, and serve them with a tasty aioli (garlic mayonnaise), or try the feta and red pepper dip in our recipes below. Or create an antipasti plate: arrange things like marinated olives, crudités, ciabatta, parmesan, cured meat, and roasted peppers on a number of little platters for passing around. Crostini and bruschetta also make fabulous summer starters – check out the Broad Bean Bruschetta in our recipes below.
Summer Herb Salad
Serve dinner with a summer herb salad, improvised from your vegetable patch – simply arrange washed herbs (like basil, fennel, mint, coriander, and rocket) on a big plate and drizzle with a classic lemon-olive oil dressing (use 1 part lemon juice to four parts olive oil, and season well). This also makes a great base for a simple little starter such as a courgette tart.
Broad Bean Bruschetta
You can make this broad bean puree in lots of different ways: try blitzing the cooked beans with feta or basil and lemon juice, tasting and seasoning as you go.
500g shelled broad beans
4tbsp olive oil
6 cloves garlic
100ml milk
Juice of ½ lemon
Fresh parsley
Salt and pepper
1 loaf ciabatta, sliced
Warm the olive oil in a saucepan and add the broad beans and garlic; stir, then cook over a gentle heat for about 10 minutes. Pour in the milk and keep on a very low heat until the beans have absorbed most of the milk and are tender. (Optional: at this point, you can remove the grey skin from some or all of the beans – removing this gives a brighter colour.)
Tip the mixture into a dish and mash roughly with a fork, adding lemon juice, parsley, salt and pepper to taste. Toast the slices of ciabatta and top each one with a spoonful of broad bean puree and a drizzle of olive oil.
Feta and Red Pepper Dip
Seasonal red peppers shine in this gorgeous Greek dip. This is wonderful with breadsticks or crudites.
2 large red peppers, halved and seeded
100g feta cheese
2-3tbsp olive oil
2tsp paprika
Lemon juice, salt and pepper
Put the peppers under a hot grill until they're well blackened. Put into a plastic bag and seal. After five minutes, open the bag and carefully remove the skins from the peppers (the steam will have loosened the skins). Put the red peppers into a food processor with the feta cheese and paprika, and blitz to a rough puree, pouring olive oil through the funnel to achieve a dipping consistency. Taste for seasoning – it might need lemon juice, salt or pepper. Serve at room temperature. p>
You might also like...