Summer Foods for Veggie Dishes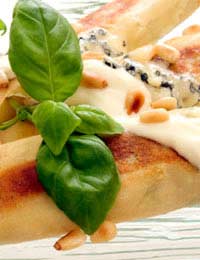 Summer and autumn are naturally rich in vegetables and fruit, so it's never been easier to create a sumptuous vegetarian main course. Here are some ideas for summer vegetarian food.
What's in Season?
Summer Squashes come in a range of shapes, colours and sizes. Halve them and scoop out the seeds and fibres, filling the cavity with grated cheese, sundried tomatoes, or roasted red peppers and goat's cheese. Bake until soft and serve as a main course.
Tomatoes. Whether you grow your own or buy them from a Farmer's Market, British tomatoes come in a range of classic and heritage varieties. Cherry tomatoes make a beautiful vegetarian tart. Roll out a square of puff pastry and spread it with goat's cheese, then top with thinly sliced tomatoes. Drizzle with olive oil and sprinkle with salt and pepper, then bake until golden and eat outdoors in the sunshine.
Freshly-harvested onions arrive in midsummer, and they make a dazzling sweet onion jam to put on barbecued vegetarian burgers or Italian crostini. Spring onions and shallots taste wonderful with fresh new potatoes and a chive vinaigrette. Marinate red onions in lemon juice to remove their potency before sprinkling them over a couscous salad.
New Potatoes. If you fancy growing your own, first early potatoes are one of the most rewarding crops you can have. The earliest little potatoes are wonderful enough to eat as a luxurious dinner with pats of butter! But if you want to do something more interesting with them, slice them and add them to a buttery, saffrony Pilaf – perhaps with fresh peas or runner beans added in the last ten minutes too. ('Vegetarian dishes from the Middle East'– Grub Street – has some excellent Pilaf recipes.)
Runner Beans. How could we neglect this classic summer crop? Most people might enjoy the steamed greens alongside a barbeque or Sunday Roast, but the kidney-shaped seeds inside the pods are delicious on their own. Leave runner beans to dry on the plants and harvest at the end of the season – the large, white or purple beans make a sumptuous vegetarian main dish simmered gently with onion and tomato, and sprinkled lavishly with coriander. Eat with warm flatbread.
Spinach Pancakes with Roasted Tomatoes
Baby spinach leaves are available in early summer, and a valuable source of vitamins for vegetarians. Try this pancake recipe for a summer lunch.
18oz plum tomatoes.
1tbsp olive oil.
3oz plain flour.
7oz spinach, blanched, drained and finely chopped.
1 egg.
100ml natural yoghurt.
3tbsp water.
Nutmeg, salt and pepper.
Halve the tomatoes horizontally and arrange them on a baking tray. Drizzle with olive oil, sprinkle with salt and pepper, then roast in a hot oven until the tomatoes are soft and brown around the edges.
For the pancakes, beat the egg, yoghurt and water in a cup. Combine the flour and a pinch of salt in a large bowl, make a well, and stir in the wet ingredients. Beat together until you have a smooth batter, then stir in the spinach and some freshly ground pepper.
Heat a non-stick frying pan with a little olive oil, and put a ladle full of batter in, swirling to coat the pan. Flip and cook both sides, then put into a low oven to keep warm while you cook the rest.
Wrap up the pancakes with roasted tomato slices inside each one, put into a baking dish, and top with grated cheese. Warm through in the oven until golden and bubbly on top.
You might also like...