Vegetables for Autumn Cooking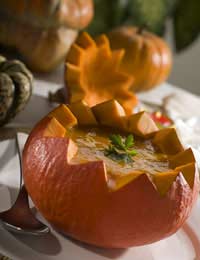 Looking for ways to make your vegetable intake more enjoyable, or to use up a glut of seasonal food from your veg box? Try some of our quick and easy recipes and ideas for vegetable sides this autumn.
What's in Season?
CHESTNUTS:
Don't wait until Christmas to enjoy these sweet, soft nuts. They can be found in the grass beneath sweet chestnut trees from mid-October onwards, with a fairly long season. To cook them, slit the skins, drop into water (and remove any that float) and bring to a boil for about 5-10 minutes. Remove a few at a time from the water and peel the skin off with a knife, taking care to remove most of the inner skin too. Freeze or drop straight into a stew, or simmer in milk for another few minutes before draining to make chestnut puree. There are literally hundreds of recipes available for Monts Blancs – Nigella is a big fan of this chestnutty, creamy, chocolatey dessert. Chestnuts are traditionally eaten with Brussels sprouts at Christmas.
TO Make: parboil both, then stir-fry briskly in a wok brushed with walnut oil, adding some diced pancetta, if liked.
SQUASHES: And don't wait until Halloween! Sliced winter squash makes an appealingly bright gratin to serve alongside your Sunday roast.
TO Make: Parboil thin squash slices before layering in a baking dish (with parboiled slices of parsnip, potato and swede if liked), sprinkling with garlic, salt and pepper between layers, then covering with a cup of cream and topping up with milk. Bake until golden and soft.
SWISS CHARD: This leafy green plant will keep going and going through autumn and winter: it's a real saint of the veg patch. As it gets colder, pick leaves from the outside of the plant to allow the heart to continue producing. Tough, big leaves of chard taste nicest braised or gratineed.
TO Make: First, bring a pan of water to a rolling boil. Drop in the stems, which you've sliced, for a couple of minutes, and THEN put in the leaves, and cook for a further four minutes until tender. Drain immediately and chop on a board: now the chard is ready to be braised (on a base of saffron-scented onions with a splash of white wine) or gratineed (toss with white sauce or crème fraiche, and cover generously with breadcrumbs and parmesan).
LEEKS: Spring-sown leeks are ready in autumn, although the plants can stand through winter or be heeled in for storage. Wash them carefully by cutting the stem vertically from top to bottom, then fanning the layers under a running tap to rinse out dirt. Baked leeks make a truly wonderful side dish.
TO Make: Chop three or four and toss with a little grain mustard, plenty of salt and pepper, and a carton of crème fraiche. Splash with milk to loosen and bake in the oven until soft and golden on top.
AUTUMN CARROTS: If you grow your own, you're quite likely to have a patch of baby carrots ready about now – from the late summer sowing.
TO Make: These are adorable cooked whole in boiling water, then tossed in a glaze made from a squeeze of orange juice, a teaspoon of brown sugar, and salt and pepper. Heat in a pan until the carrots are coated with sticky orange glaze, then tip onto a serving dish and eat alongside a meaty stew or spiced tagine.
You might also like...