Seasonal Autumn Soups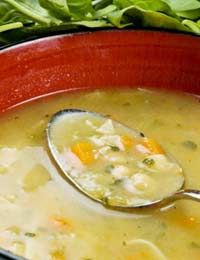 Autumn is a time to celebrate seasonal food. From sweetcorn to squash, whether you grow it or buy it, produce is plentiful. When the clocks go back in late October, the nights become darker, and a big bowl of soup is often just what you want after work. So gather at the fireside and celebrate our seasonal harvest with one of our tried and tested soup recipes.
What's in Season?
Squash and pumpkins come into season in autumn, and these sweet, golden-fleshed vegetables are simply perfect for souping. You'll find dozens of variations: Nigella offers a squash and sweet potato soup in her Express book, and online you'll find squash soups with cheese croutons, spice and lentils, red peppers, tomatoes and carrots. The permutations are endless, and truly, it's hard to go wrong with a squash soup. Our favourite recipes play on its natural sweetness – try our spicy squash soup, below.
Sweetcorn is also in season now; this crop can be difficult to grow if you're not in the far south, but there always seems to be plenty available in supermarkets, farm shops and box schemes. Cook it as soon as you buy it – the sweetness in the kernels turns to starch from the moment the cobs are picked, so get souping!
Sweet potato is not a vegetable you'd associate with British growers. It's a subtropical tuber that needs a fair bit of warmth to mature. But it's become popular over here on allotments, and if you don't grow your own, it might be available from your local farm market. This beautifully sweet tuber isn't actually related to the potato – don't boil it, which makes it mushy, but instead roast in a little olive oil or cook it briefly in a soup. We've used it to lend sweetness to our chowder, below.
Spiced Squash Soup
For 4 people.
1 tbsp olive oil
1 clove of garlic (minced)
A 1" piece of ginger (minced)
1 onion
1 butternut squash, peeled and cubed
2 chillies, finely chopped
1 tsp ground cumin
1 tsp coriander
2 large tomatoes, diced
2 tbsp dessicated coconut
1 pint vegetable stock
Heat the olive oil in a saucepan, then add the ginger, garlic and onion (diced). When the onion is soft, stir in the butternut squash, chillies, cumin and coriander and then the chopped tomatoes. After a minute, add desiccated coconut and vegetable stock. Simmer gently for 20 minutes, topping up with water as necessary.
Now let the soup cool before you blend it, and reheat. If liked, garnish with sliced red chilli and toasted coconut.
Sweet Potato and Sweetcorn Chowder
Recipes for sweetcorn chowder, a South American speciality, abound on the Internet. Ours is a vegetarian version, with plenty of seasonal vegetables in this chunky soup.
For 2 people:
2 small leeks
1 tsp butter
1 tsp fresh rosemary
1 sweet potato, peeled and diced
1 cup (about 1/4 pint) of vegetable stock
1 sweetcorn cob
1 tsp cornflour
4 tbsp milk
Slice the leeks and soften them in the butter on a low heat.Add fresh rosemary (finely chopped) and the sweet potato (peeled if necessary and diced into 1cm pieces). Cook gently for two minutes before adding the vegetable stock, and bringing to a simmer.
After 6 minutes add the kernels of sweetcorn cob, and simmer for another 2 minutes. Stir cornflour into milk and add it to the pan. Taste and season, then very gently heat the soup until it's steaming – don't bring it to a boil. Serve with crusty bread.
You might also like...