Autumn: Venison Cutlets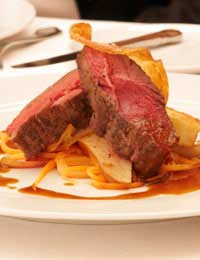 There's nothing quite like a clear, crisp, autumnal day to help us appreciate the local scenery. Something about the light at this time of year (on clear days anyway!) promotes a sense of calm understanding of our surroundings.
Perhaps it's some buried ancient instinct, of the need to prepare food for the long winter months ahead, that makes us want to stop and gaze into the distance of an autumnal landscape. It's the time for a sense of appreciation of nature and all that she provides; so we can keep the memory of that bright and peaceful day with us until spring.
For this autumn recipe, neck cutlets from a young male deer (buck) are recommended. Venison meat is dark red and lean, so traditionally well-hung for tenderness and flavour. There is very little fat; which is why I like to marinade the meat for 24 hours before cooking.
Phase 1: The Marinade
2 shallots
2 cloves garlic, peeled and crushed
1 medium sized carrot, washed and sliced
1 stick celery, washed and sliced
2 cloves
2 bay leaves
4 whole black peppercorns
8 juniper berries
Handful of parsley stalks
Sprig of marjoram or thyme
50ml olive oil
Half a bottle red wine
6 venison neck cutlets
Method
Fry the onion, garlic, celery and carrot in oil until they brown.Decant the vegetable mixture into a mixing bowl and add all the other ingredients.Stir well and leave to cool.
Next, place the venison cutlets in a large roasting tray or similar and pour the marinade over them.Leave in a cool place for 24 hours, turning the cutlets occasionally. (Alternatively, this can be left to marinade in a refrigerator for 3-4 days).
Phase 2: Further Ingredients and Method
Preheat the oven to 170C
Onions, carrots, garlic, celery as before
50g streaky bacon
30g butter
25g plain flour
300ml stock (or drain liquid from the marinade)
2 tablespoons whisky
1 tablespoon cranberry sauce or bramble jelly
Juice of 1 orange
Method
Use the same quantities of onions, carrots, garlic and celery as in Phase 1, with the addition of 50g rindless, chopped, streaky bacon and brown them together in a flameproof casserole dish, with 30g butter, over a moderate heat.
Now, add the drained venison cutlets, turn up the heat and brown them in the butter and juices.Remove the cutlets and vegetables, then, lower the heat to the pan.
Sprinkle 25g plain flour into the pan to soak up the juices and make a base for your sauce. Stir until you have a smooth paste/roux, then, add the stock and whisky. Give it a quick blast with a metal whisk at this stage if there are some lumps lurking...Put the cutlets and vegetables back in the casserole with the whisky and stock.
Cover the dish with a lid and cook in the centre of the preheated oven for 1 and a half hours, then check that the meat is tender.While the cutlets are cooking, prepare the vegetables you fancy to go with them.
Once cooked, remove the cutlets from the casserole dish and keep them warm.Add the orange juice and cranberry sauce to the casserole liquid and stir well. You may want to add a little salt and pepper and a squirt of lemon juice at this stage; or you may like it just the way it is!
When you are ready to serve your meal, stand the cutlets around a central mound of mashed\pureed vegetable on the warm serving dish to form a crown shape. Looks very impressive!
Serving suggestion: Mashed potato, celeriac puree, mashed swede or similar seasonal vegetable that can be made to form a mound is ideal. Decorate the vegetable mound with chopped baked chestnuts.Pour the sauce from the casserole into a jug to serve separately.
You might also like...