Seasonal Autumn Starters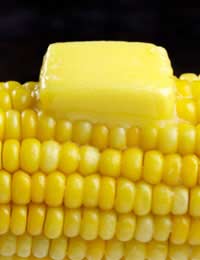 This season, host a dinner party using local, fresh produce. It couldn't be easier: stock up at your local farmer's market, then try out some of our favourite seasonal recipes. Buying in-season isn't just tastier, it's also cheaper – as plentiful supply keeps prices down. Here are two delicious autumn starters to impress your guests.
What's in Season?
Autumn brings baskets of luscious seasonal produce. Squashes and pumpkins are piled up outside farm shops, and home-grown sweetcorn appears on spiky green plants all over the countryside. Don't forget about English pears – and Italian Borlotti beans, which are becoming fashionable over here. There's plenty for foragers, with chestnuts, blackberries and apples coming into season too.
Winter Salad with Roast Squash and Feta
This is a simple seasonal starter with sensational flavours. You can use any type of firm squash: a supermarket Butternut would do, but why not try looking for a more interesting variety, such as Crown Prince?
500g (prepared weight) squash, skin-on, wiped and cut into wedges
2tbsp butter
2 cloves garlic, crushed
2tbsp fresh sage, chopped finely
Salt and pepper
200g feta cheese
Optional: walnuts or pine nuts, toasted
400g salad leaves – corn salad, watercress, rocket
Juice of ½ lemon
Olive oil
First roast the squash. Preheat the oven to 180 degrees C. Put the squash wedges onto a roasting tray.
Use a mortar and pestle to combine the garlic, butter, sage, salt and pepper.
Use your hands to rub the flavoured butter all over the wedges. Roast for 25-30 minutes, or until the squash is golden and tender.
Let the squash wedges cool for 5 minutes while you prepare the salad.
Blend the lemon juice with four times the volume of olive oil, and season to taste.
Toss the dressing with the leaves and divide between 4 plates.
Top with the warm squash, crumbled feta, and optional nuts. Serve warm.
Sweetcorn with Flavoured Butter
Grilled sweetcorn is a very fine seasonal starter. Jazz it up with a flavoured butter – try our recipes below, or invent your own! You can boil sweetcorn cobs (15 minutes in salted water) or just put them straight under the grill. If grilling, it's a good idea to soak the whole cobs (including husks) in cold water for a couple of hours beforehand. This ensures that the kernels will be full and sweet after grilling. Don't be afraid to grill until the cobs are nice and brown all over!
Lime and Coriander
50g butter
Zest and juice of 1 lime
2tbsp chopped fresh coriander
1 fresh red chilli, finely diced (omit the seeds for a milder taste)
Classic Garlic Butter
50g butter
1 clove garlic, crushed
2tbsp fresh parsley, finely chopped
Warming Cumin and Cayenne
1tsp ground cumin
1/2 tsp cayenne pepper
Juice of ¼ lemon
To make flavoured butter, simply beat the softened butter with the flavouring ingredients. Wrap in clingfilm, forming a tight sausage shape, and put into the fridge to firm up. To serve, cut a slice from the sausage and serve on cooked sweetcorn.
You might also like...