Autumn Food: Veggie Main Courses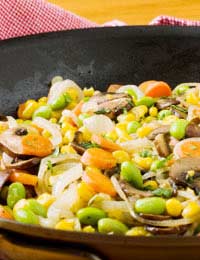 Autumn's selection of seasonal food is heaven-sent for vegetarians. Squashes and pumpkins are being harvested and hardened off for winter storage and enjoyment; the final borlotti beans, haricot beans and French beans are still being tumbled into baskets; tomato gardeners are using up their final fruits; and the first leeks, parsnips and cauliflowers appear. Fresh chestnuts and hazelnuts – which can be found for free if you know where to look - provide protein. Sad to see the back of summer? Don't be – it's time for an autumn feast! Here are some ideas and recipes for enjoying the best seasonal food and vegetables.
What's in Season?
As well as everything mentioned above, autumn is time for hedgerow berries – look for blackberries, elderberries, rosehips and haws. Turn them into chutney for storage, or try simmering in sugar to make a delicious syrup. (Edible Wild Foods – Grub Street – is a useful source of information about foraging.) If you live in the country you'll see sweetcorn plants soaring for the sky at this time of year.
The corn is ready when the silks at the top turn brown, and it's best eaten as fresh as possible. Try one of the many chowder recipes available online and in print, or add corn to American-style pancake batter for a breakfast side dish.
Also in harvest at autumn are squashes and winter pumpkins. These are harvested just before the last frost in October and usually allowed to ripen and harden in a glasshouse before being put into storage to provide food in winter. A ripened squash will last for months indoors – give it a cool spot. Stuffed squash is a favourite vegetarian supper for autumn. Although they can be stuffed with anything, squashes work especially well with these ingredients: pine nuts and leeks, goat's cheese, sage, rosemary, pistachios, chili, chick peas, garlic and spices. There are plenty of recipes available online.
Three Sisters Succotash
'Three Sisters' refers to a planting combination that is commonly used on allotments to maximise space and harvest. The three sisters are sweetcorn, squash, and beans (often a haricot or borlotti variety), and they're planted close together: the sweetcorn providing support for the beans, which leave ground space for the sprawling squash – which in turn shades the roots of its two sisters.
Succotash is an American dish which combines two favourite vegetables – lima beans and sweetcorn – sometimes with a cheesy crust. This recipe is a light stew with the vegetables briskly cooked to retain their flavours. We like to serve our version over slabs of griddled polenta, which rounds out the nutritional content of the meal.
For 2:
1/2 butternut or other sweet squash, diced into 1cm pieces
2 small corn cobs, with the kernels sliced off
1 cup borlotti, broad or soya beans
2 tomatoes, chopped
1tsp tomato puree
Sugar, salt and pepper, to season
1 chili pepper – jalapeno if possible – diced
1tbsp of basil, shredded

1tbsp coriander, sliced

A quick squeeze of lemon juice
Bring a pan of water to a boil and sprinkle in a little Bouillon stock. Simmer the borlotti for 10 minute, adding the corn 3-4 minutes before the end. Warm some olive oil and cook the squash gently for 30 minutes, adding the tomatoes, puree, seasonings and half a cup of water 5 minutes from the end. Stir in the beans and lemon juice, then warm through over a high heat; add herbs and serve.
You might also like...