Recipes for Chestnuts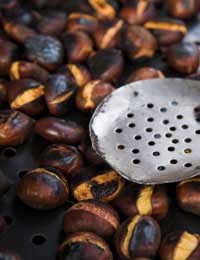 Chestnuts are available fresh from the end of October – and now you can buy them all year round in vacuum packs, too. If you're gathering your own, take a look at our tips below. Then put your nuts to good use in one of our favourite recipes!
Gather your own Chestnuts
Take a country walk and look out for a sweet chestnut tree along the way. In season, large chestnut trees can be identified by the number of people wandering around beneath them! You can identify chestnuts by their spiky tufts at the top – horse chestnuts are rounded all over, so avoid those. Choose chestnuts that are firm and glossy, and preferably bigger than a pound coin in diameter (any smaller and you'll have hard work peeling them). Only take the number of nuts that you expect to be able to prepare immediately – uncooked chestnuts don't store well.
The very best time to go and collect your chestnuts is after a windy night: visit early, and the ripe nuts will be all over the ground. Nuts that are still on the tree are not ripe yet, so don't start attacking branches in hopes of shaking them down. Be sensitive and don't plunder the whole lot: leave some for your fellow foragers, not forgetting the local wildlife.
Cooking your Chestnuts
Now you're home with a bag of fresh chestnuts, the hard work starts. You can either boil or roast the nuts, and for each the principle is the same. First slit the glossy brown skins, to prevent explosions. Put into a roasting tin and roast at 200ºC for 20-30 minutes, or until the skins open and the insides are knife-tender. You can eat them warm – scattered with rock salt – or peel them and set them aside to use in a recipe.
Boiling chestnuts is quicker. Just drop the nuts into plenty of water (discarding any that float to the top) and bring to a rolling boil. They will be tender after 5-15 minutes (the time depends how old the nuts are). Drain and cool for 5 minutes before peeling the nuts, removing both the glossy outer skin and the inner beige skin. It's easiest to do this while the nuts are still slightly warm, so if you're doing a lot it can be better to cook them in batches.
Tip: Cooked chestnuts can be frozen – a great idea for Christmas cooking. Arrange them on a tray and freeze for a couple of hours, them remove the tray and put the nuts into labelled bags.
Creamy Chestnut Stroganoff
Your freshly-cooked chestnuts make a nutritious supper dish – try our quick stroganoff recipe.
1tbsp butter
4 shallots, peeled and finely sliced
2 cloves garlic, crushed
1tsp paprika
200g fresh mushrooms, sliced
300g chestnuts, cooked
100ml vegetable stock
3tbsp double cream
Squeeze of lemon juice, salt, and pepper
Chopped parsley, to garnish
Melt the butter in a wide pan and gently soften the shallots and garlic. Stir in the paprika and mushrooms and cook for a minute or two more. Pour in the stock and bubble to reduce for five minutes.
Stir in the cream and chestnuts and cook for two more minutes, or until the sauce is thickened and the chestnuts are hot. Taste and season with lemon juice, salt and pepper. Serve scattered with chopped parsley – with jacket potatoes or mash on the side.
You might also like...