Winter Root Vegetables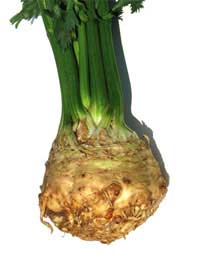 Winter root vegetables – not the most inspiring phrase for the home cook, is it? But this neglected harvest can be used to make some of the best comfort food you'll try. Take a look at our recipes for scrumptious side dishes and you'll soon be piling up winter roots in your trolley!
Using Roots in Side Dishes
Starchy, sweet, savoury root vegetables make scrumptious sides. Don't believe us? Just try making mashed potato with equal amounts of chopped celeriac and potato. Or steam carrots and swedes until very soft, then mash together with olive oil. Bake sweet potatoes in the oven, then split and top with crème fraiche. Here are some ideas for good old British roots:
Swedes are sometimes underrated – in Britain, they're usually steamed, mashed, and served alongside the Sunday roast. But you can also enjoy them in a vegetable stew with cider and celeriac – served with cheese dumplings, it's the perfect winter vegetarian meal.

Use swedes to make crunchy root vegetable crisps: clean and if necessary peel a selection of root vegetables (parsnip and celeriac are also good here). Preheat a pan with a couple of inches of groundnut oil, and peel wafer-thin slices from your swede. Drop a handful at a time into the hot oil, and remove when they're golden brown. Cool on kitchen paper and sprinkle with salt to serve.

Celeriac is difficult to grow – not because it doesn't like our climate but because it's a very awkward little seedling! It requires time and patience to grow this knobbly, roughly spherical root. If you're buying it, choose the medium-sized ones – "Be satisfied with plain big," says Sophie Grigson, "as the colossal ones may have swelled up so far that the centre becomes spongy or hollow."

Its popularity has boomed in the past decade, and the French Remoulade is a great way to try it as a side dish. Peel and slice your celeriac, then cut the slices into finest matchsticks, dropping them into a dish of water acidulated with the juice of a lemon (to keep the sticks white). Dress them with good mayonnaise, then add lemon juice, Dijon mustard, and seasoning to taste.
Roasted Garlic & Rosemary Roots
You can use a selection of your favourite root vegetables in this versatile recipe.
You need:
1 large swede, roughly chopped
1 celeriac root, roughly chopped
2 parsnips, roughly chopped
2 large carrots, roughly chopped
200g red potatoes, unpeeled and chopped
2 heads garlic, unpeeled
3tbsp olive oil
3 sprigs fresh rosemary
Salt and pepper
1 small glass (125ml) white wine
Make sure that all the vegetables are chopped into pieces of roughly the same size – about 2". The celeriac and swede should be peeled, but the potatoes and parsnips will pass after a good scrub if they're not too dirty.
Don't peel the garlic – just separate the heads into cloves and put them, with the chopped vegetables, directly onto a roomy oven tray. Using your hands, toss the veg with the olive oil, halved rosemary sprigs and seasoning.
Spread them evenly on the tray. Pour the white wine carefully into the bottom of the tin and put into the middle of a hot oven at 180 (160 fan) degrees C. Bake until golden brown – 30-40 minutes.
You might also like...