Warm Winter Salads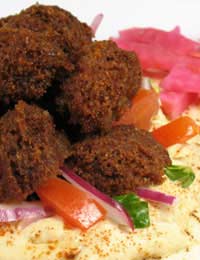 While winter is a time for comfort eating and baking, there may be a day when you're longing for something a little lighter. A warm salad is the perfect compromise.
Use the finest seasonal ingredients to make yourself something special from those winter salad leaves...
Caesar Salad with Chicken and Radicchio
Radicchio is a useful winter salad leaf to grow. If protected, it will stand through the early winter months. Its bitter taste is tempered with a sweet and garlicky Caesar dressing; if the leaves are still too bitter for you, mix them with some other salad leaves such as the butterhead type Arctic King.
For 2 people:
1tbsp olive oil
2 thick slices bread
1 clove garlic
2 anchovies from a tin OR 1/2tsp coarse sea salt
2tbsp finely grated Parmesan
1tbsp lemon juice
75ml mayonnaise
1tsp wholegrain mustard (optional)
1 head radicchio plus additional salad leaves, as liked
1-2 skinless chicken breasts
2tbsp olive oil
First switch on the oven to 180 degrees C, gas mark 4 and make the croutons. You can use any kind of bread you have on hand – leftover French stick is good! Chop the bread into large cubes and spread on a baking tray. Use your hands to rub in the olive oil and sprinkle on some salt and pepper. Bake for about 40 minutes or until golden and crispy.
Now make the dressing: use a pestle to mash the garlic and anchovies or salt to a paste. Add the parmesan, lemon juice and mayonnaise and stir until it's emulsified. Taste to see if it needs salt, pepper, more mayonnaise, or mustard. Put the dressing aside.
Now taste a radicchio leaf. If you wish to reduce the bitterness of the radicchio, you can grill it: cut the head into wedges, brush with olive oil, and put on a griddle pan until just tender. You will need to griddle the chicken in the same way. Brush the breasts with olive oil and griddle until cooked. Put onto a chopping board and slice.
Finally, assemble the salad: put the leaves into a large bowl and toss with most of the dressing. Put the chicken pieces and croutons on top, and finish with the remaining dressing. Eat while it's warm!
Roast Squash with Falafel and Tahini Dressing
This nutritious vegetarian supper makes the most of that squash that's been sitting in your greenhouse since October. If you have to buy your squash or pumpkins, look at farmer's markets for interesting varieties such as Red Kuri, Queensland Blue and Crown Prince.
For 2 people:
1 medium squash (about 1kg)
1tbsp olive oil
1 tsp chilli powder
1 pack (200g) falafel (homemade or from chilled cabinets)
2 tsp Tahini
2 tsp Greek yoghurt
2 tsp lemon juice
2 tsp chopped mint or coriander, if available
Winter salad leaves, such as radiccio, endive and lambs' lettuce
First prepare the squash: use a good knife to slice it into wedges and cut off the skin carefully. Remove the inner fibres and seeds. Toss the squash with the olive oil and chilli powder and spread on a baking sheet. Roast at 180 degrees C, gas mark 4 for 30 minutes or until tender - adding the falafel in the last 15 minutes to warm them through.
Make the dressing by putting all of the ingredients in a jar with 2-3 teaspoons warm water and seasoning. Shake until well blended. To serve, arrange the winter salad leaves on a large platter. Top with the falafel and squash wedges, drizzle generously with the dressing, and enjoy!
You might also like...