Hot Winter Puddings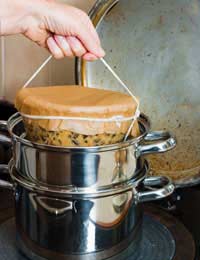 Cold mornings, dark evenings, and grey skies... if ever there was a time for hot puddings, it's winter! Come in after a long day at work and make a seasonal winter pudding to warm your hands and your heart. Britain has a long tradition of warm puddings, steamed, baked or stewed, and it's no wonder – our short winter days and cold weather call for something hot and sweet! Try one of our winter recipes or suggestions, and you'll soon be a convert to the joys of seasonal food.
Fast & Hot Winter Puddings
A hot, home-baked pudding needn't take hours... it just tastes like it did. With some tricks up your sleeve, you could make a winter pudding after work without falling asleep in the kitchen.
Steamed puddings are notoriously slow to cook – you're looking at three hours in a pan if you're unlucky. But there is a way to cook them quick, and it's right in front of you! Provided your pudding basin is suitable, it can be filled and cooked in the microwave. Pudding batter will steam in about 5 minutes or less, depending on the size of the bowl. Just make the recipe as usual, then cover the basin with clingfilm and microwave for 4 minutes, then check by sticking a skewer through the middle. When it comes out clean the pudding is done – sit for another minute before dishing it up.
A hot fruit crumble is another great British tradition. Choose whatever winter fruit you have available: apples, pears, plums and frozen berries are great. Fresh cranberries are a real find, if you come across them. They will grow in our climate and crop at Christmas, so they're worth considering for the garden if you have space.
Cranberries bring a deliciously sharp note to a sweet apple crumble: mix a handful with two or three sliced apples, then top with your favourite crumble (try Delia's almond crumble topping). Cranberries also make a good addition to mincemeat for mince pies, or try stewing them with orange juice and apple pieces to make a fruity sauce for vanilla ice-cream.
Ginger Toffee Pudding
This is a 'magic' pudding, popularised by Nigella Lawson – find her versions in Nigella Express and Nigella Bites. You pour boiling water over the pudding batter and it becomes a sticky sauce at the bottom of the baking dish. Serve with ice-cream or custard!
You need:
150g self-raising flour
1/2tsp baking powder
100g soft, dark brown sugar
1/2 tsp ground ginger
1/2 tsp mixed spice
150ml milk
100g dates, chopped and soaked in the milk
60ml vegetable oil
1 egg
For topping: 500ml boiling water, 7tbsp brown sugar and 2tbsp butter, cut into pieces
Preheat the oven to 220 (200 fan) degrees C. Beat all of the batter ingredients together, saving the dates for last, until smooth and pour straight into an ovenproof dish. Sprinkle the sugar over the batter and then the butter – don't stir it in! Now pour over the boiling water; it will sink a bit into the batter but that's fine.
Bake for 30 minutes, then cool the pudding for another 10 minutes before dishing it up.
You might also like...