Cheap and Seasonal Winter Suppers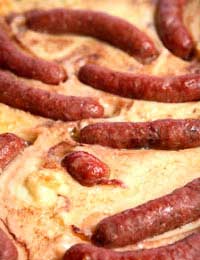 Nothing's nicer than a winter supper in front of the fire – especially after a hard day at work. If you're on a budget, careful shopping and thrifty cooking can produce some delicious results. Here are some favourite recipes for warming winter suppers that are cheaper than chips!
Simple and Seasonal
Here are some recipes for simple, seasonal suppers that you can make with your eyes shut.
Potato Hash- Traditionally made from boiled potatoes, chopped onions and corned beef, this one-pan wonder can be made using whatever is in season. Try sizzling leftover potatoes with finely shredded kale and cooked pork sausage – or leftover chicken with steamed sweet potatoes and roasted peppers from a jar. Lazy and luxurious…
Spiced Kale and Chickpeas - This thrifty supper is great served with grilled naan breads. Warm 2tbsp oil or ghee in a frying pan, then add 3 cloves of garlic (crushed), 2cm of ginger (peeled and crushed) and 2 chopped green chillies. Fry for a minute before adding 250g shredded kale, approx 120ml vegetable stock and 2tsp garam masala. When the kale is tender – and the liquid has evaporated – add approx 120g cooked chickpeas and 100ml double cream, the juice of half a lemon, and 1/2tsp salt, and simmer until thickened. Garnish with fresh coriander.
Haddock with Griddled Leeks and Cream Sauce - This looks like a fancy dinner dish, but it's easy to make. You can buy frozen haddock fillets for oven baking: look in your local supermarket and choose Icelandic haddock if available. Choose small to medium leeks; wash and then steam them for 2-3 minutes or until floppy. Rub a griddle pan with butter and add the leeks, then griddle. To make the cream sauce, soften 1 chopped shallot in 1tbsp butter. Add 100ml white wine and reduce to half the volume. Add 3tbsp single cream and a drop of lemon juice and simmer to thicken – then strain and serve over the fish and leeks.
Toad in the Hole
Sausages are always in season! Think thrifty, and make them go further by baking them in a yorkshire pud. Here's a classic recipe that is the perfect accompaniment for winter greens like cabbage or broccoli.
This recipe serves 2 to 3 people.
115g plain flour
Pinch of salt
1 egg
285ml semi-skimmed milk
2 tbsp sunflower oil
4 pork sausages
First, grill the sausages until lightly browned (they will cook more in the oven), then slice them into 16 pieces and set aside. Choose a dish about 15cm diameter to cook the toad in. Put it into the oven with the oil to preheat while you mix the batter. Set the temperature at 200 degrees C, gas mark 7.
Beat the egg and set it aside. Sift the flour and salt into a large bowl and make a well in the middle. Add the egg and half of the milk, and whisk the flour in from the sides to incorporate it slowly. Whisk until the batter is smooth and starting to bubble at the top. Pour in the remaining milk and whisk again until it's frothy. Take the dish from the oven using oven gloves and pour in the batter – it will sizzle. Drop in the sausage pieces, pushing them with a fork to submerge them in the batter. Bake for 30-45 minutes or until a skewer comes out cleanly. Serve with gravy and winter greens such as steamed savoy cabbage.
You might also like...