Seasonal Halloween Baking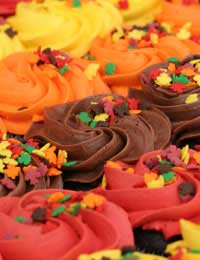 This Halloween, lock the doors, and settle in for some seasonal baking. The results are sweet enough to feed to your Halloween guests – as long as they've been good!
Ideas for Halloween Baking
Halloween baking calls for some special equipment. You'll need an array of gruesome colours and sprinkles to decorate, and spooky-shaped cutters for cookies and biscuits.
You can get an amazing range of cookie cutters in the shops now, and speciality Internet stores carry even more. Look for pumpkin, bat, owl and witch-shaped cutters – companies like Blue Shoots and Lakeland stock them – and then bake up your favourite biscuit recipes, before letting the kids loose on the décor! Try making gingerbread owls and chocolate cats…
When it comes to Halloween baking, surprises are the name of the game. Think bowls of green punch with eerie eyeballs floating in them… Pastry moons filled with spicy pumpkin puree… and chocolate cupcakes with marinated cherries lurking in the centres. Think 'surprise' when you decorate your house, too: drape cobwebs over doors and arrange ghoulish footprints in the front garden. Bake two batches of hazelnut and one batch of curry cookies, for unlucky souls to 'discover' on the cookie platter at the buffet! For gorgeously gory, surprisingly squidgy treats, our Bleeding Heart cupcakes are hard to beat…
Bleeding Heart Cupcakes
Filled cupcakes are great fun to make and eat. For these you'll need a batch of autumn plum or raspberry jam (see above) to squidge into the middles – the bleeding hearts!
You need:
115g margarine
175g caster sugar
175g self-raising flour
1/2 tsp baking powder
Pinch of salt
2 beaten eggs
5 tbsp milk
About ½ jar of plum or raspberry jam
200g cream cheese
50g golden icing sugar
Preheat the oven to 180 degrees C and grease and line a cupcake tin. Using a food processor, beat together the margarine and caster sugar, scraping down the sides at intervals, until they're light and fluffy. (If you don't have a food processor, you can do this step with an electric whisk, in a freestanding mixer, or with a wooden spoon and some muscles!)
Add the beaten eggs and milk, and beat the mixture again until combined. Sift in the flour and baking powder with a pinch of salt. Then fold gently so you don't break down the air bubbles.
Spoon the batter carefully into the cupcake cases, then slide into the oven and bake for 15-20 minutes, or until the cakes are risen and lightly golden. Pop them out of the cupcake tray and put them all onto a wire rack to cool for an hour while you make the icing.
Make the icing in a roomy bowl. Beat the cream cheese until soft, then sift in the icing sugar and continue beating. If liked, you can add colouring or spices to the icing – a pinch of cinnamon is nice with plum jam. Put the icing aside.
Using a small teaspoon, scoop out a hole from the top of each cupcake. These scraps are cook's treats! Fill the holes with your chosen jam. Now carefully spread icing over the cupcakes, starting with the jam centres and working outwards using a knife. Pop into the fridge briefly if you want them to set quickly. Serve as soon as the icing has set a little bit!
You might also like...