Great Harvest Desserts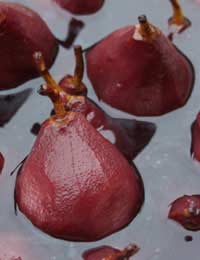 There are so many options for harvest desserts. Take inspiration from seasonal food and create some autumnal desserts with pumpkin, fresh nuts, apples and pears. Here are some dessert ideas and recipes…
What's in Season?
Harvest is a traditional time to celebrate bounty – and how better than with gorgeous desserts? As autumn sets in, apples and pears are in season, along with the last of the plums. Don't forget the vegetables: grated sweet potato is a great substitute for carrot in a spicy carrot cake. Pumpkins and squashes are ready, too. These brilliant fruits come in many shapes and sizes, and they'll keep for months – so stock up when you see good ones. They're adaptable enough to eat morning and night, so don't just cook them for your dinners, but for your desserts, too! Here are our best ideas using seasonal food.
Mulled Pears
Here's a quick and easy autumn dessert that you can make for the family in the week. It's a very flexible dessert – you simply poach peeled pears in red or white wine, adding cloves, fresh ginger or nutmeg to suit your family's tastes. Here's the basic blueprint. To one bottle of red wine add about 300g brown sugar, a couple of strips of orange and lemon zest, and a stick of cinnamon. Sprinkle in nutmeg, ginger and cloves to your taste, and bring the solution to the boil for about five minutes to drive off acidity. Then drop in your peeled pears and poach on a gentle heat for about 30 minutes.
Squash and Pecan Cupcakes
You can grow your own butternut squash if you live in the south of the country, or you have a greenhouse. They need plenty of sunshine to swell and ripen in late summer. The firm, orange flesh is naturally bright and sweet – it can be used to bake spiced pumpkin cheesecake, or our cupcakes below.
A platter of cupcakes makes a pretty dessert. Smother these cupcakes in butter cream icing and top with toasted pecans – your dinner guests will be asking for more!
You need:
1/2 Butternut Squash, peeled, de-seeded, and grated finely
2 large eggs
175g soft brown sugar
120ml sunflower oil
2 tbsp dark rum
1 tsp cinnamon
200g self-raising flour
1/2 tsp baking powder
100g pecans.
Before starting, preheat the oven (180 degrees C) and toast the pecans on a baking tray for 5-8 minutes, keeping a close eye on them. Remove from the oven when they're toasty, cool, and roughly chop. Set aside.
Using an electric whisk or freestanding mixer, beat together the eggs, sugar and oil until light and thick. Sift in the flour and then tip in the remaining ingredients, including the squash and pecans. Fold into the mixture gently.
Plop the mixture into 12 muffin cases and carefully slide into the oven. Bake for 20-25 minutes or until golden and risen. Cool on a wire rack until you're ready to ice them. Slather with butter cream icing and top with more toasted pecans, if you like.
You might also like...