Sweet Treats for Halloween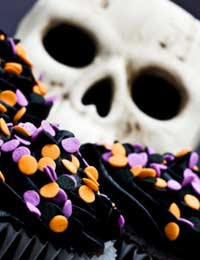 It's Halloween… so switch off the lights, leave the cobwebs untouched, and treat your guests to sweet seasonal treats.
Dressing your Home for Halloween
If you're having a party, why not dress your home with a seasonal theme? Gather baskets of miniature squashes or ornamental gourds; instead of carving these, you can paint them with PVA glue and roll them in sparkly glitter – great doorstep decorations! Make a heap of crunchy leaves around your front door and drape furniture in white sheets for a 'haunted house' look – invite guests to sit in the dark and eat dinner by candlelight! What will you be eating? Here are some ideas for sweet Halloween treats.
Pumpkin Muffins
Follow the recipe in Harvest desserts to make a batch of pumpkin cupcakes, then slather in spookily green-coloured or pitch black butter icing. Decorate with miniature cake decorating spiders – if your guests are brave enough!
Spooky Cake Pops
'Cake Pops' are an American trend. Having baked your favourite sponge cake, you refrigerate it to firm it up a little, then use a melon baller to scoop little bite-sized balls. Stick a lollipop stick into each one and your Cake Pops are ready to decorate! For Halloween, try melting a bowl of white chocolate. Dip each pop into the chocolate, twist until it's covered, and put onto greaseproof paper until almost set; then finish with smartie 'eyes' and liquorice 'mouths' to make mini ghosts!
Eyeballs in Jelly
Well, it's easy enough to make green jelly – but for Halloween, add some seasonal surprises to spook out your young guests! Use a packet of lime jelly and make as instructed. Drop peeled grapes (eyeballs) into dishes before pouring in the warm jelly, then set in the fridge.
Chocolate Spiders
Bake a recipe of your favourite chocolate cake, dividing it between muffin cases and baking for less time than usually instructed. When they're baked and cooled, turn them out onto a plate and put them upside down. Tint some butter cream icing with black food colouring, and spread thinly over the cakes. Poke in liquorice strings for legs and use brown smarties for eyes.
Bloody Mary Cocktails
Fresh tomato juice is wonderful for this seasonal cocktail. To make it yourself, chop fresh tomatoes and put in a large saucepan; warm over a low heat until the fruits soften and give up their juice. Then put the whole lot into a strainer bag (a jelly bag; available from Lakeland) and suspend over a jug (the back of a chair is useful) overnight. To the fresh tomato juice, add a couple of celery sticks and a few good splashes of Tabasco and Worcestershire sauce. Taste carefully and add more sauce, salt and pepper as required. Refrigerate until ready to serve, then splash in vodka to taste and drink icy-cold!
Fresh Apple Juice with Eyeballs
Those peeled grapes make brilliant ice-cubes for kids' drinks! Just peel them, then open freeze them on a parchment-lined tray, and bag them up once frozen. If you have a juicer (or a juice attachment for your food processor), you can make lovely juice from windfall apples at this time of year. Add sugar or honey, stirring, to taste and drop in the grapes at the last minute.
You might also like...