Pumpkin Recipe Ideas for Halloween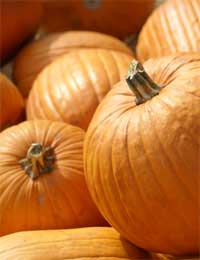 It's Halloween – time to carve a pumpkin and welcome trick or treaters!
Now you've got a big pile of pumpkin flesh, why not make one of our seasonal food recipes and invite some guests to enjoy a scary movie? Here are some ideas for harvest and Halloween pumpkin meals.
Pumpkin makes great party food. In the autumn, it's great cut into chunks and roasted – drizzle with maple syrup, or toss in harissa for a spicy kick. Then wrap roasted chunks in filo pastry to make party nibbles – or roast the pumpkin in wedges and serve with a delicious dip.
Try one of our inspired pumpkin recipes, below.
Gooey Cheese Baked Pumpkin Fondue
This gooey and gruesome cheese dip is served in a pumpkin half, so it's a brilliant centrepiece for a Halloween dinner. It also makes a lovely side dish to a large roast: put in spoons and let people scrape out some flesh slathered with cheesy cream. For a Halloween fondue, serve it up with small radishes (eyeballs) and toasted pitta 'fingers' for people to dip and enjoy.
You need:
2 small squashes or pumpkins
6tbsp double cream
2 cups grated cheddar cheese
Salt, pepper and chives
Slice the pumpkins in half, horizontally, giving you four 'bowls'. Scoop the seeds and fibres out of each one and set onto a baking tray. Score the insides with a sharp knife so that the flesh cooks into the cheese. Divide the cheese between the pumpkins and top up with cream, then slide carefully into the oven. Bake for 20-40 minutes, depending on pumpkin size – you want the flesh tender and the cheese melted and bubbly.
Sprinkle each half with salt, pepper, and chives. Cool for 5-10 minutes before stirring gently and serving up.
Pistachio Roasted Pumpkin Wedges
Once you've tried roasted pumpkin, you'll probably be hooked. This is one of the best recipes for roasted wedges that we've ever tried. It's perfect for Halloween or harvest parties, since the wedges taste just as good at room temperature. Serve them with a cheese and chive dip, or plate them up with hot falafel and rice to make a gorgeous vegetarian autumn meal.
You need:
2-3 small pumpkins or squashes (the huge ones are too watery), peeled and halved
2 eggs, beaten
200g shelled pistachios
100g fresh parmesan
Preheat the oven to 180 degrees C, gas mark 4. Now prepare the pumpkin: carefully slice the halves into quarters and then cut them into generous wedges, discarding the fibres and seeds in the middle. Put the wedges onto a baking tray as you cut them.
Put the pistachio nuts into a food processor and whiz just until they're ground (some bigger bits are OK). Finely grate the Parmesan into the nuts and season with pepper. Mix well and tip the mixture onto a plate.
Taking each wedge at a time, dip it into the beaten egg and then the nuts, pressing them all over with your fingers. Lay the wedge onto the baking tray and continue until they're all coated. Bake for 20-30 minutes, or until the pumpkin is tender and the coating is golden. Cool just for a minute before offering to your guests.
You might also like...