Healthy Harvest Food Ideas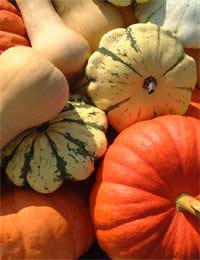 Harvest time, and there are baskets of freshly-dug vegetables everywhere you look! Enticing cobs of corn, glistening golden pumpkins, woodland mushrooms and the last of summer's tomatoes and courgettes... at this time of year, it's easy to be healthy. Pick up a pumpkin or grill a fresh cob of corn and you'll feel treated. Here are our recipe ideas for healthy Harvest eating.
What's in Season?
It would be better to ask 'what's not in season?' as Harvest is a time when British people have traditionally celebrated the abundance of the land. Homegrown apples and pears are swinging from the trees. Sweetcorn, which is now easier to grow here than ever, is harvested and sold by the ear – perfect for a late summer barbecue (just soak the cobs in water for an hour before grilling, husk-on). Pumpkins are piled up ready for Halloween (see our inspiring pumpkin recipes if you have a pile of golden flesh to use up!). Finally, don't forget to pick up a bargain bag of summer tomatoes: buy while they're plentiful, then stew down into thick puree to freeze for pasta and pizza.
A good old-fashioned bowl of soup goes down beautifully at this time of year. It's healthy and nutritious – and a great way to sneak some extra veg into the kids. Try making a sweet Squash and Sweetcorn soup: leave the vegetables in chunks and whisk in a little milk to create a chowder, or blend everything together to make a drinkably smooth soup to sip from a mug on Bonfire Night. Squash makes a star appearance in our Smokey Vegetable Hash – below.
Smashing Vegetable Hash
This quick and filling stir-fry was inspired by a cooked breakfast in Canada. With beans for protein and corn and squash providing colourful vitamins, it's a good start to a weekend day. It's a bit like a seasonal Bubble & Squeak. As it's made with just 1 tbsp olive oil for two people, it's low fat and packed with vegetables – get your 'five a day' in one bowl!
You need:
2 medium potatoes, scrubbed and cubed into 1" pieces
1 cup squash cubes
1 cup fresh borlotti beans (or frozen soya beans)(
1tsp vegetable stock powder
2 cobs of sweetcorn
1 cup fresh mushrooms, sliced
1tbsp olive oil
1 small onion, chopped
1 tbsp rosemary, chopped finely
2-3 tomatoes
250g spinach, washed, with big stems removed
Salt and pepper
Optional: 2oz cheddar cheese, grated
Cut the kernels from the sweetcorn and set aside. First, parboil the potatoes, squash and borlotti in a scant pan of water with 1 tsp bouillon dissolved in it. Bring to the boil and set the timer for 4 minutes, add the corn and give the pan another 2 minutes, then drain them and set aside.
Heat a large wok with the olive oil, then toss in the onion and rosemary. Stir for a minute before adding the drained vegetables and the mushrooms, stirring over a high heat to quickly brown them. Fry briskly for 5 minutes or until you start getting golden bits. Now taste and season very generously. Add the chopped tomatoes and spinach, and sizzle until the spinach has just wilted. Divide between two large, heated plates. If liked, sprinkle with cheese and put under a grill to melt it.
You might also like...