Springtime Specialities Including Mackerel in Cider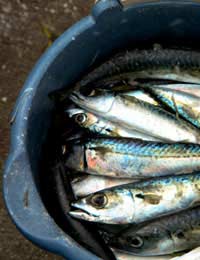 Mackerel has a good firm flesh that suits so many recipes, and yet it is often overlooked in favour of less flavoursome fish. It is classed as an 'oily fish' which, we're told, is good for us!
When you are choosing fresh mackerel (or any other fish) look for the following signs that it is fresh:
Flesh that is firm
Clear shiny eyes
Bright red gills
General overall appearance should look as though the fish is freshly caught. This is important as mackerel deteriorates quickly-and for this reason was once the only fish that was allowed to be sold on London streets on Sundays.
Follow your nose! Fresh fish should smell clean...
Ask your fishmonger to cut off the heads and gut the mackerel if you don't fancy the thought of doing it yourself; but keep the heads to make stock if you like to have some homemade in the freezer. (Stock is not used in the following recipe - we're using cider instead!)
Mackerel in Cider
Serves 4. Preheat oven to 180C
4 fresh, clean mackerel
2 British dessert apples
1 medium-sized onion
200g grated cheddar
50g butter
50g fresh breadcrumbs or porridge oats
6 tablespoons of dry cider
Wash the mackerel in cold water and then dry them thoroughly with kitchen roll. The apples should be peeled, cored and coarsely grated. Onions peeled and grated too. Grate all of the cheese; but keep half of it back for a later stage.
Combine the apples, onions, breadcrumbs and cheese together in a bowl. Now, melt the butter (over low heat) in a skillet or frying pan. Pour about one tablespoon of the melted butter into the bowl of apples and other ingredients to bind it together.
Stuff an equal portion of apple mixture into the body cavity of each fish. Use skewers to secure the opening of the fish-and keep the stuffing in! Place the mackerel in an ovenproof dish and divide the remaining grated cheese equally over them. Dribble the rest of the melted butter over the cheese-topped mackerel.
Pour enough dry cider into the dish to cover the base of it. Cover the dish with a greased piece of foil-loosely, it does not need to be tight-fitting like a lid. Pop this in the oven for about half an hour-by which time the mackerel should be cooked and golden brown in colour. Serve this straight from the dish with wedges of lemon. (Sprinkle with some chopped parsley too if you have some.)
Delicious served with noodles and broad beans.
Additional Accompaniment Suggestion
If you choose to serve fresh mackerel as part of an informal dinner, try making the gooseberry sauce (below) to go with it. A truly memorable combination!
Spring Veggies
Here are some of the locally grown vegetables you may be able to buy during the spring months:
Asparagus
Broad Beans
Kale
Early potatoes, such as Maris Peer.
Spring Cabbages
Salad Onions
Spinach
What's in the Fruit Bowl?
Hothouse peaches may be available from May
Strawberries
Local produce may also include dessert fruits such as gooseberries and rhubarb
Gooseberry Sauce
The following recipe for gooseberry sauce provides a non-nonsense zing to go with grilled, baked, fried or smoked mackerel.
450g gooseberries-washed, topped and tailed
25g butter
75ml water
2 tablespoons unrefined caster sugar
A few fresh chopped fennel leaves
Simply bung all the ingredients together in a saucepan and cook until the gooseberries pop open then mash it together with a fork!Serve with mackerel or cold pork.
You might also like...