Seasonal Spring Vegetables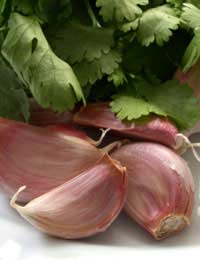 What foods are in season now? Here's a quick overview of the vegetables available in spring, with recipes and serving suggestions.
What's in Season?
From broad beans to purple sprouting broccoli – here are some of our favourite spring foods, plus recipes and suggestions for eating them...
Finding Recipes for Wild Garlic
Wild garlic can be found in woodlands in the early spring. Take a picture with you and make sure you've got the right thing – its strong scent will help you to find it!
Once home, you can shred the wild garlic and toss it into stir-frys. It's also lovely in a gratin with the last of the maincrop potatoes.
How to make wild garlic gratin
Wash and shred two generous handfuls of wild garlic leaves, then butter a large baking dish. Slice and parboil enough peeled potatoes to fill the dish, then layer them in it, sprinkling wild garlic, salt and pepper on each layer. Pour in single cream to cover, and scatter cheese over the top. Bake for 40 minutes or until the gratin is soft right through.
Purple Sprouting Broccoli
Purple Sprouting Broccoli (PSB) is an important source of food in spring, as it fills the notorious 'hungry gap' in March and April. PSB is ready just in time before the broad beans and peas emerge to provide us with green vegetables. If you have a vegetable box, you're probably used to seeing bags of it in early spring! Use it to make a light accompaniment to rich dishes or pies.
How to cook purple sprouting broccoli:
Take a bag of PSB and trim off the thick stems. Blanch the florets and leaves in boiling water for a minute. Heat 1tbsp groundnut oil in a wok, and add a generous pinch of dried chilli flakes. Tip in the PSB and sear for a few minutes, until tender and starting to catch in places; season with salt and put into a warmed serving dish, sprinkling with Parmesan if liked.
Ways with Peas
Podding fresh peas is a sign that summer's on the way. But don't just boil them and eat them with fish and chips – steam them and sprinkle them over a ricotta salad, or put them into a pea and new potato frittata for an easy lunch. Peas can be used to make a deliciously rich side dish for your Sunday roast.
Tasty pea side dish:
Heat 1tbsp olive oil in a frying pan and soften 1 chopped onion (or 3 spring onions) with 1 clove garlic. Add the fresh peas and a glass of white wine, and simmer very gently, until the peas are tender and the liquid has almost all gone (raising the heat to drive it off if necessary). Season with salt and pepper, add 1-2tbsp of double cream, and heat through before serving.
Enjoying Asparagus
Asparagus needs nothing more than farm-fresh butter, salt and pepper to make a heavenly starter or side dish. But if you want a new way to serve this English spring vegetable, try making a simple gratin with crunchy breadcrumbs.
How to make crunchy asparagus gratin:
Trim the woody ends from 1 generous bunch of asparagus and blanch it until only just tender (5-7 minutes). Put the spears into a buttered baking dish and preheat the grill. In a small bowl, combine ½ cup breadcrumbs (from 1 slice wholemeal bread) with 2tbsp parmesan cheese. Sprinkle this topping over the asparagus and grill until golden and crunchy.
You might also like...