Veggie Main Courses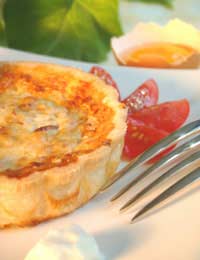 Time to lighten up! Spring is the season of fresh greens and healthy mains: vegetables start appearing in abundance, and food lightens up ready for summer. You'll find recipes for spring main courses throughout our SPRING section; below is a vegetarian option that's perfect for a family supper or dinner party.
What's in season?
If you have grow your own food, you'll know that spring is the time when the first green vegetables arrive. After a winter of roots and kale, you'll be pleased to welcome baby spinach, salad leaves and the very first peas. Salad leaves will grow from an early sowing, which can be made, in many parts of the country, in early March. Saladini has a particularly fast growth period and will be ready in just a few weeks. Alongside salads, you'll be able to enjoy early peas and mangetout, spinach, globe artichokes, and the newest baby potatoes. Late spring is the English asparagus season. It's worth making a meal from the first asparagus spears you see – you don't need any recipes. Steamed or griddled and served with hollandaise sauce, they make an elegant and blissful supper.
If you don't grow your own, you may not come across broad beans. Try looking for them at a local farmer's market – they're best at the start of the season. Naturally sweet and soft, they're easy to get on with; try them on the kids! Broad beans work beautifully in recipes featuring fresh spring herbs and sharp cheeses like goat's cheese and feta. You'll also notice that they appear in many Middle Eastern recipes - why not try some of those, and put a new twist on this English bean?
Broad Bean, Spinach and Pea Tartlets
These lovely, flavoursome tartlets make a good show-off main course. You can make them with an assortment of spring vegetables; swap the spinach for chard or the broad beans for artichoke hearts, depending on what you can find. If you're devising a vegetarian menu, serve these as a main course with steamed new potatoes. For the rest of the menu, stick to the fresh green theme: try starting with a goat's cheese salad and following with an elderflower and gooseberry fool.
For 4:
250g (half a packet) chilled puff pastry
1tbsp olive oil
1 bunch spring onions
2 cloves garlic, minced
300g fresh peas, podded
250g spinach leaves, washed and shredded, with any thick stems removed
300g broad beans, shelled
50ml single cream
2 eggs, beaten
A squeeze of lemon juice
Salt and pepper, to season
Preheat the oven to 200 degrees C. Roll out the puff pastry, on a floured board, and divide it into four squares. Using the tip of a knife, draw a frame on each square, then lift onto a cool baking sheet, and set aside.
Bring a pan of water to the boil, and blanch the peas and beans for 3 minutes. Tip them into a colander and return the saucepan to a medium heat. Put in the olive oil, onion and garlic. Keep it on a low heat until the onions are soft and translucent (not brown). Tip in the peas, broad beans, and spinach, and stir until the spinach wilts. Turn up the heat a little to drive off the excess moisture from the spinach.
Now season generously with salt, pepper, and lemon juice, take the pan off the heat, and stir in the eggs and cream. Spoon the filling onto the centre of each pastry square, avoiding the scored edges. Bake for 20-30 minutes or until the pastry is golden and the egg in the middle is set. Cool for a few minutes before serving as the filling will be hot.
You might also like...