Soups to Make During Spring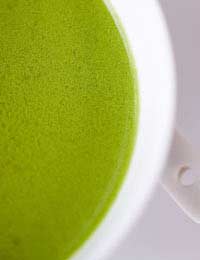 Spring's the perfect time to dish up some soup – elegantly chilled, or fresh and warming, it's a great lunch for springtime. Take your pick from the wonderful spring vegetables that are just emerging, and double the batch to keep some spare spring food in the freezer.
What's in Season?
Spring is time for peas and broad beans, the last of the artichokes, plus the very first salad leaves and lettuces that were planted before the winter set in. Late spring also coincides with the English asparagus season, which is short and lush – make the most of it!
The Best Spring Soup Recipes
Spring carrots, small and adorable as they are, make beautifully sweet soup, especially combined with fragrant coriander seeds and lemon juice. Wild garlic is an unusual addition to a Vichyssoise: go looking for it in woodlands, and follow your nose! The 'hungry gap' in March is usually filled with Purple Sprouting Broccoli, and if you have a surplus then try making it into soup: soften it with leek or onion, simmer in stock for just a few minutes, season, and blitz until smooth – then serve with plenty of blue cheese crumbled over the top! As the asparagus begins to look a bit old and woody, it's time to turn that into soup, too. Made with just spring onion, asparagus and a herb of your choice, asparagus soup is a refined and light first course – serve with gruyere croutons.
Fresh Pea and Lettuce Soup
Cooked lettuce – what's going on? This is a French food tradition, and it's actually surprisingly wonderful. If you've grown hearting lettuce over winter, try cooking them in this recipe. Look out for recipes for braised lettuce, too – it makes a great side dish for roast chicken. Here's a fresh-tasting soup for your spring menus . This smooth green soup is good hot or cold.
For 4:
500g fresh peas (shelled weight)
1 onion, diced
1tbsp butter
2 Little Gem lettuces (or similar crunchy lettuce), sliced
100ml white wine (optional)
1tsp stock Bouillon or a vegetable stock cube (we like Marigold Bouillon)
2tbsp chopped chives
Salt and pepper
Squeeze of lemon juice (optional)
Creme fraiche, to garnish (optional)
Soften the onion gently in the butter over a low heat. In another pan, cover the pods with water, and bring to the boil. Simmer for 5 minutes, then strain, reserving the liquid – dissolve your stock cube or powder in it, and make up the level to 400ml.
Add the peas and lettuce to the onion, and soften for another minute. Then splash in the white wine, if using, and a moment later stir in the stock. Simmer for 5-10 minutes, or until the peas are perfectly tender.
Remove and reserve a few peas for garnishing, if you like. Pour the rest into a blender and blend at high speed for a couple of minutes to get a smooth soup. Add the chives, salt and pepper to taste, and whiz for another few seconds until the chives are chopped and dispersed. Taste to see if you will need any lemon juice to brighten the flavours. Return to the pan and warm gently before serving, topped with crème fraiche and extra chives if liked.
You might also like...