Seasonal Kids Birthday Party food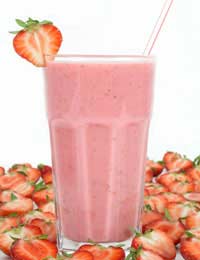 Along with all the traditional plates – cheese sandwiches, bread and butter, pineapple sticks, sausage rolls, juice and pop – why not serve some seasonal specialities at your child's birthday party?
Fun, Seasonal Birthday Party Food
Here are ideas for seasonal food to serve at your next kids' party.
Spring It's a good season for healthy party food – especially if you can sneak in some greens without the kids noticing! Make healthy salad and chicken wraps, layering grilled chicken with grated cheese and mixed salad on a tortilla, then cutting into child-friendly slices, and securing each with a cocktail stick.
Summer There's plenty of fruit available in summer, so make the most of it. Whiz up a handful of summer berries with honey and milk to make a brightly coloured smoothie: serve it in small cups with straws. If the kids will eat fruit, chop a wide assortment, toss in a syrup made from lemon juice and sugar, and put into little paper cones for eating on-the-go. If you're hosting a small party and you can supervise, why not put a chocolate fondue on the table? Kids love getting messy with dip: sliced bananas and kiwis, strawberries and orange segments all taste great smothered in gooey chocolate!
Autumn Get the kids involved in the prep work for the birthday party. Hand out small pumpkins and let them carve, paint or varnish them while you slice up squashes to make spiced wedges. Sweet squash wedges are a great alternative to potatoes or chips, with lots of vitamins and an appealing golden colour. Toss them in polenta and (if suitable) a pinch of chilli powder, then serve in paper cones with bowls of ketchup on the tables.
Winter You don't have to serve cold party food – what about a hot buffet? Even this needn't be as difficult as you might imagine. A tray of baked potato halves with bowls of fillings – vegetable chilli with swede and parsnip, grated cheese with sautéed leek, chopped ham – is easy to prepare ahead. At Christmas or on Bonfire Night, warm finger-food like sausage rolls and crunchy goujons will go down well.
Mini Pizzas
Kids' party food doesn't have to come from a packet – you'll enjoy making these, especially if you get the kids to help. Make the pizza dough ahead of time, roll out circles and put them in a warm place, covered with a tea-towel, until you're ready to top and bake.
You need:
170g strong white bread flour.
1 tsp yeast.
1tbsp caster sugar.
100ml warm water.
2tbsp olive oil.
1tsp salt.
Sift the flour into a large bowl, and stir in the yeast and sugar. Make a well in the middle of the flour. Combine the water and olive oil in a cup, then pour into the well. Bring in flour around the edges to combine; you may need to add a splash more water. When the dough is coming together, transfer to a board and knead for 10 minutes, until the dough becomes soft and pillowy.
Return the dough to the bowl, cover with a tea towel, and let it rest for half an hour. When the time's up, pull off tablespoon-sized pieces of dough and shape into flat rounds. Place them on an oiled baking tray. When you've done all of the dough in this way, cover the tray with a tea-towel and leave at room temperature (inside the switched-off oven is OK).
For the toppings:
1 tube or jar of sundried tomato paste.
Cherry tomatoes, halved horizontally
100g parmesan (or cheddar), finely grated.
Balls of fresh mozzarella, drained.
Frozen sweetcorn.
Cooked, diced ham
Tinned pineapple.
Preheat the oven to 180 degrees C, giving it plenty of time to heat up. Top each mini pizza with a half-teaspoon of tomato puree, spreading it gently to the very edges. Now add the toppings, but don't overload. On each round, place a half tomato, a little ham, a sprinkle of sweetcorn or one or two chunks of pineapple. Finish with a chunk of mozzarella and sprinkle parmesan over everything.
Bake in the oven for 15-18 minutes, or until golden and bubbling in the middle.
You might also like...