Birthday Party Food for the Summer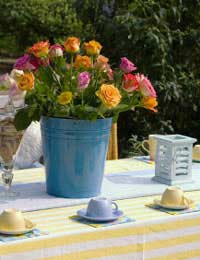 So you have a summer birthday and you want to party but you're fed-up of barbecues. Well, take a tip from us and play it cool with simple seasonal party food. We've ideas and recipes that will make your summer party simply the best!
It's good to have a theme for a birthday party so we've suggestions for English country garden and spicy Spanish tapas.
English Country Garden
Take the typical English country garden tea, move it on a little and turn it into an evening party menu. Lay the table with sparkling white linen; decorate with bunches of old-fashioned pale pink roses tumbling out of pretty china jugs. Use china plates – charity shops usually have a stock of odd flowery tea plates that will add to the charm. Provide linen napkins in old-fashioned silver rings.
For the food, plan to serve the type of things that you'd expect if you were having afternoon tea at the Ritz or at the vicar's garden party! Cucumber sandwiches, smoked salmon, scones, a selection of cakes – but make them bite-sized and give them some extra-special treatment.
For an evening variation on salmon sandwiches, mix 2 teaspoons horseradish sauce with 3 tablespoons crème fraiche. Divide this mixture between canapé-size blinis (available in supermarkets). Top with some strips of smoked salmon (buy a packet of smoked salmon trimmings rather than the more expensive slices) and a tiny sprig of dill.
Broccoli and stilton mini-tartlets are a fun version of the old-fashioned quiche. To make them, beat 1 egg with about ¼ pint double cream. Season with freshly ground salt and pepper. Blanch about 4 oz broccoli florets in boiling water. Drain well. Divide between 12 mini-tartlet cases and sprinkle some crumbled stilton on top. Fill each case with the egg mix and bake in the oven, 170 degrees C, gas mark 3, for about 10 minutes, until golden-brown.
Prepare huge bowls of strawberries with a just a tiny sprinkling of sugar, accompanied by bowls of thick rich cream. Create a tall pyramid of small scones with a dish of homemade raspberry jam (the local WI market is a good source of homemade goodies) and an even larger dish of Cornish clotted cream. Hire a chocolate fountain and serve loads of strawberries, raspberries, pineapple chunks, crispy buttery biscuits, or even tiny doughnuts for dipping. (You can buy your own chocolate fountains quite readily these days on the Internet and in large department stores.)
Make the food dainty and subtly flavoured but present it generously so that your party table is overflowing with the promise of a bountiful harvest. Accompany with champagne cocktails or chilled white wine.
Spicy Spanish Tapas
Perhaps you've recently returned from a holiday in the sun and you want to instil a bit of colourful glamour to your summer birthday party. Then it's time to raid the nearest delicatessen or the deli counter at your local supermarket for robust, chunky and flavoursome foods.
Brightly-coloured table linen, napkins and serving dishes will instantly create a Mediterranean feel. Wicker baskets, tall vases of fire-red and sunshine-yellow poppies, and loads of candles – in an old wine bottle if you're feeling retro! – will add to the effect.
A basket full of crusty bread makes a good centrepiece and starting point for your tapas table. Surround it with dishes of green and black olives, melon, platters of cheese – French cheese isn't authentic tapas food we think that you can't beat the French for cheese! – Spanish ham and chorizo sausages, sardines, huge prawns, squid rings, smoked almonds, and, of course, tortilla or Spanish omelette.
Tortilla is served cold and cut into chunks. To make it, first peel and thinly slice about 1 lb potatoes (Desiree are good for this). Sprinkle with freshly ground salt. Heat about ¼" oil in thick-based frying pan Add the potatoes and start to fry. Keep stirring.
After about 5 minutes add ½ peeled and very-thinly-sliced onion. Mix it into the potatoes and then cover and allow to cook over a medium heat. Stir frequently.
Beat together 4 eggs. When the potatoes will break easily, add them, with the onion to the egg and mix well. Drain away any fat still left in the pan and then allow the pan to get very hot. Add the egg and potato mix to the pan. Allow to cook. Turn every so often using a plate to tip it out onto and return to the pan. When a knife inserted into the middle comes out clean, the tortilla is cooked.
For dessert, offer fresh figs, pomegranates and an abundance of seasonal fruits, all ripe and ready to enjoy. Or make a large bowl of fruit salad served with a jug of pouring cream. Accompany with loads of red wine, sangria and chilled fruit juices.
You might also like...