Seasonal Main Meals for Birthday Dinners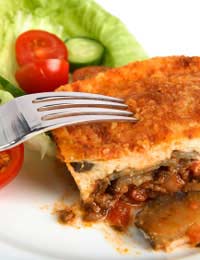 For our seasonal birthday meals, we've chosen recipes that make use of meat or vegetables in season, and we've tried to choose dishes that can be prepared in advance – even the previous day – as you won't want to be spending too much time in the kitchen when you have the company of guests to enjoy.
For spring we use lamb in a traditional fruity Moroccan tagine.
For summer it's salmon but with a slightly different twist; we make use of the autumn harvest in a simple moussaka.
For winter, we have a warming beef in Guinness casserole.
Winter
Beef in Guinness
Olive oil
1½ lb braising steak, cubed
1 onion, peeled and finely sliced
2 garlic cloves, peeled and finely chopped
1 lb carrots, peeled and sliced
2 tablespoons flour
750 ml Guinness
1 tablespoon soft brown sugar
2 bay leaves
2 sprigs thyme
9 oz prunes (ready-to-eat variety)
Freshly ground salt and pepper
Preheat the oven to 180 degrees C, gas mark 4.
Heat some oil and quickly brown the meat. Remove from the pan and add the onion and sauté for about 5 minutes. Add the carrots and garlic and continue to fry for a further 5 minutes. Return the meat to the pan. Sprinkle the flour over and stir to make a paste. Slowly add the Guinness, stirring. Add the sugar, herbs and seasoning. Bring to the boil and then transfer to the oven. Cook for about 1½ hours. Add the prunes and continue to cook for another hour or more until the meat is very tender.
Serve with creamed potatoes and buttered cabbage.
Spring
Moroccan Lamb
2 oz dried apricots, halved
1½ lb lamb pieces
1 onion, peeled and chopped
1 clove garlic, peeled and finely chopped
2 teaspoons Moroccan spice blend (or use a mix of cumin, coriander and cinnamon)
Tin tomatoes
¼ pint lamb stock
1½ tablespoons ground almonds
2 courgettes, washed and cut into chunks
½ lb butternut squash flesh, peeled and chunked
2 tomatoes, skinned and quartered
1 teaspoon harissa paste
Olive oil
Salt
parsley
Cover the apricots with boiling water and leave to soak for a couple of hours.
Preheat the oven to 180 degrees C, gas mark 4. Quickly brown the lamb in a flame-proof casserole and set aside. Fry the onion until soft then add the garlic and Moroccan spices. Stir and cook for another 2 minutes. Return the lamb to the pan.
Add the apricots and their soaking liquid, the tinned tomatoes, stock and almonds. Season lightly with salt. Bring to the boil then cover and cook in the oven for 1 hour.
Add the courgettes, squash, fresh tomatoes and harissa paste. Add some more water if needed. Return to the oven and cook for another 45 minutes or until the meat is very tender and the vegetables soft.
Sprinkle with chopped parsley and serve with couscous into which you're stirred a teaspoon or two of harissa paste.
Summer
Stuffed salmon
1 salmon – ask the fishmonger to fillet it (2 fillets)
10 oz cooked prawns
8 oz cream cheese
1 leek, washed and finely chopped
A few stalks of tarragon or dill, chopped
Freshly ground salt and pepper
Olive oil
Preheat the oven to 190 degrees C, gas mark 5.
Beat the cream cheese to soften. Add the prawns, leek, herbs and seasoning. Mix together. Lay 1 salmon fillet skin side down on a lightly-greased baking sheet. Spread with the cheese mixture. Place the other fillet skin side up on top. Secure with string. Bake for 20 minutes then reduce the heat to 160 degrees C, gas mark 3 and cook for another 15 to 20 minutes until done. Serve garnished with lemon wedges and watercress, with green beans and new potatoes. Or serve cold with green and potato salads.
Autumn
Moussaka
2 lb aubergines
Freshly ground salt and pepper
Olive oil
2 onions, peeled and chopped
1 lb lean lamb mince
2 teaspoons tomato puree
¼ pint red wine
1 oz butter
1 oz flour
½ pint milk
1 egg
Slice the aubergines and place in a colander. Sprinkle with salt and leave for an hour for the bitter juices to be drawn out. Rinse in cold water and pat dry with kitchen towel. Heat some olive oil in a large frying pan and brown the aubergines on both sides.
Set aside the aubergines and fry the onion until soft. Add the lamb and brown quickly. Stir in salt, pepper, tomato puree and wine. Bring to the boil and simmer, covered for about 20 to 25 minutes.
Preheat the oven to 190 degrees C, gas mark 5. Arrange the meat and aubergines in alternate layers in an ovenproof shallow dish. Set aside while you melt the butter in a small saucepan. Stir in the flour and cook very gently for a minute or two. Remove from the heat and gradually stir in the milk beating well to make a smooth paste. Season with salt and pepper and return to the heat, stirring for 2 minutes. Remove from the heat and beat in the egg. Pour over the moussaka.
Bake for 45 minutes or until the surface is golden brown. Serve with a generous green salad and fresh crusty bread.
You might also like...