Make the Perfect Christmas Pud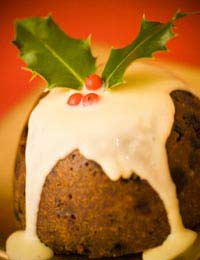 Christmas puddings have been around for hundreds of years. The first ones, called hackins, were made from meat, suet, dried fruit, spices and claret, all wrapped in pig's gut and stewed. But,as with many Christmas customs, we have Prince Albert, the husband of Queen Victoria, to thank for popularising Christmas pudding as we know it today.
There are lots of customs associated with Christmas puddings.
Pudding is traditionally made on Stir-up Sunday, St. Andrew's Day in the Anglican calendar. The name comes from the Anglican prayer for day which reads, 'Stir up, we beseech Thee, O Lord …'
Everyone in the family has a stir, moving the spoon from east to west, signifying the journey the wise men took to visit the baby Jesus. It's traditional to make a wish while stirring.
Coins are added to the mixture and whoever gets a coin in their pudding on Christmas Day has their wish granted.
Garnishing the pudding with a sprig of holly is said to represent Christ's crown of thorns but it may also be a hang-over from the mid-winter pagan celebration, as holly was said to bring protection.
Thimbles used to be added to the pudding but that was a less popular custom as it was said that whoever found the thimble on Christmas Day would never marry!
Grandma's Christmas pudding recipe
Makes one to eat, one to keep.
4 oz self-raising flour
Pinch salt
1 teaspoon mixed spice
½ teaspoon cinnamon
¼ teaspoon nutmeg
8 oz suet (use vegetable suet for a vegetarian pudding)
8 oz white breadcrumbs
1 lemon
12 oz soft brown sugar
2 oz ground almonds
8 oz raisins
8 oz currants
8 oz sultanas
4 oz prunes, stone s removed, chopped finely
2 oz mixed peel
2 oz carrot, grated
1 small apple, peeled and finely chopped
2 tablespoons black treacle
6 tablespoons rum
3 eggs, beaten
½ pint stout
Put the raisins, currants, sultanas and prunes to soak in 2 tablespoons rum for a few hours.
Sieve the flour, salt and spices in to a large bowl. Add the suet, breadcrumbs, grated rind of the lemon, sugar, almonds, soaked fruit, peel, carrot and apple. Mix thoroughly. Make a well in the centre.
Put the treacle into a small pan and warm slightly to make it runny. Remove from the heat and add the rest of the rum and the juice of the lemon. Stir in the eggs. Pour into the dry mix along with the stout and mix very thoroughly.
Cover the basin with a clean tea-towel and leave to stand over-night. You might like to keep it for a few days in the fridge to allow the flavours to develop further.
When you're ready to cook the puddings, stir the mixture and if it seems a little dry add some milk – or more rum. If you're adding coins or small charms, wrap them in greaseproof paper and add them now.
Grease 2 1 litre pudding basins generously with butter. Divide the mixture between the basins. Cover with a double thickness of greaseproof paper, folded along its length to make a pleat to allow the pudding to rise. Tie securely with string.
You can buy special heatproof plastic pudding dishes with lids if you prefer.
You will need 2 large saucepans. In each one place an upturned saucer and rest the pudding basin on top. Pour boiling water into the saucepan so that it comes about one third of the way up the side of the basin. Cover the saucepan and steam gently for about 5 – 6 hours.
You will need to keep checking the water level and topping it up with boiling water.
When the puddings are cooked, allow to cool. Remove the cooking paper and replace with fresh greaseproof paper. Tie securely and store in a cool place.
On Christmas Day, re-cover the pudding with buttered greaseproof and foil and steam again briskly for about 2 hours. Turn out onto a dish and stick a sprig of holly in the top. Heat some brandy in a ladle over direct heat. Tilt the ladle slightly to the side and the brandy will catch fire. Alternatively ask someone to light it for you. Carefully carry the pudding and the flaming ladle to the table and slowly pour the brandy over the pudding. When the flames have died down, serve with thick cream, custard or brandy butter.
Brandy butter
Cream 3 oz unsalted butter until it's soft and then beat in 4 oz sieved icing sugar. Add 1 tablespoon brandy and beat thoroughly. Chill well before serving.
Christmas pudding traditionally made will keep for at least 1 year but you may prefer to freeze it. In which case, freeze after cooking. Allow it to thaw slowly before steaming on the day.
Make 1 large and several individual puddings instead. Use tea-cups or individual pudding moulds. Reduce the steaming time to 3 hours and re-steaming to 1 hour.
You might also like...