Fun Christmas Baking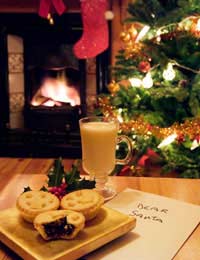 Christmas means traditional food with a seasonal theme. Filling your home with a deliciously warm and spicy aroma. Making that extra little effort. Baking foods that your grandma baked. Carrying on the Christmas traditions that we all love.
Christmas mince pies have a very long history. One of the earliest recipes dates from 1615 and includes mutton along with suet, currants, spices, prunes and sugar. It wasn't until the nineteenth century that a variety of mincemeat without meat was made.
Stollen, a spicy fruity bread, surrounding a marzipan centre, originated in Dresden, Germany, in 1329, after the Bishop of Nauruburg initiated a competition to create a new form of bread. Its popularity has spread all over the world and it's still made today especially at Christmas.
Mince pies
If you make your own mincemeat rather than using it from a jar, you won't need to soak it in brandy first.
1 lb mincemeat
2 tablespoons brandy
10 oz plain flour
1 oz ground almonds
6 oz butter
3 oz caster sugar
Zest of ½ lemon
1 egg yolk
3 tablespoons milk
Icing sugar
Put the mincemeat in a bowl and stir in the brandy. Leave to soak while making the pastry.
Sieve the flour into a bowl and stir in the almonds. Add the butter and rub into the mixture until you have fine breadcrumbs. Add the sugar and lemon zest. Mix together the egg yolk and milk and stir into a well in the centre of the dry ingredients. Using a knife pull together until the mixture starts to stick and then use your hands to make a dough. Don't over-work the dough but knead until it is just smooth. Wrap in clingfilm and leave in the fridge for 30 minutes.
Pre-heat the oven to 200 degrees C, gas mark 6. Turn the dough onto a floured surface and roll out. You should be able to cut out 48 circles of pastry. Place 24 in tartlet tins and top with a small teaspoon mincemeat. Cover with another pastry circle and gently seal the edges.
Make small slits in the top of each pie and bake for about 15 - 20 minutes or until golden. Dust with icing sugar and serve hot if possible!
Omit the almonds if you prefer and replace with flour or rice flour.
Stollen
This recipe makes 2 stollen.
4 oz sultanas
4 oz raisins
1 tablespoon dark rum
1 egg
1 sachet easy blend yeast
1 teaspoon caster sugar
½ pint milk, at hand heat
1 lb strong white flour
1 teaspoon salt
1 teaspoon cinnamon
6 oz butter
Zest of 1 lemon
Zest of ½ orange
4 oz marzipan
1 egg yolk
Icing sugar
Place the sultanas and raisins in a bowl and pour over the rum. Leave to soak for about 1 hour.
Meanwhile sieve the flour. Set aside about 1 tablespoon of the milk and put the rest into a bowl with the egg and sugar. Sprinkle over the yeast and 2 oz of the flour. Cover the bowl with a damp tea-towel and leave in a warm place for about 15 minutes.
Meanwhile, sieve the rest of the flour again along with the salt and cinnamon. Add 4 oz butter and rub between your fingertips until you have a fine breadcrumb-like mixture. Make a well in the centre and pour in the milk and yeast mix along with the orange and lemon zest. Mix together roughly and then add the soaked fruit.
Turn the dough onto a floured surface and knead for about 3 minutes until smooth. Return the dough to the bowl, cover and leave in a warm place until doubled in size. This could take up to 2 hours.
Turn the dough out onto a floured surface. Divide into 2 equal pieces and roll each out to a rectangle. Cut the marzipan in half and make a roll of each slightly shorter than the rectangle of dough. Lay the marzipan on the dough and bring the dough up around it, squeezing the dough together to enclose the marzipan completely.
Place the 2 loaves on greased baking sheets. Beat the egg yolk with the remaining tablespoon milk and brush over the stollen. Cover and leave in a warm place for about 1 hour.
Cook for 20 – 25 minutes in an oven pre-heated to 200 degrees C, gas mark 6. Immediately brush with the remaining 2 oz melted butter. Dredge heavily with sieved icing sugar to create a thick covering.
Allow to cool and dredge again with icing sugar before serving.
You might also like...