Delicious Christmas Starters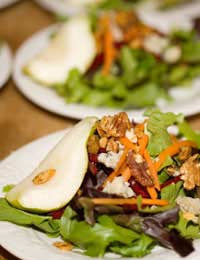 What are you having for Christmas lunch this year? Maybe it'll be traditional turkey, Christmas goose, veggie nut roast, rare rib of beef, or well-hung game. Whatever your choice, it'll be accompanied by all the trimmings and followed by Christmas pudding, and maybe even cheese and biscuits too. Christmas food is so delicious it's hard to say no.
To prepare your palate for this wonderful feast of seasonal Christmas food, the starter needs to be light and fresh, with a flavour of its own that will awaken your taste buds before the main course. The last thing you want is a heavy stodgy starter that will fill you up before you've even begun on the roasties!
So we've found some recipes that will fit the bill. These recipes can all be prepared earlier and finished off just before you're ready to sit down to lunch.
Pear and Roquefort Salad
1 tablespoon white wine vinegar
6 tablespoons olive oil
Freshly ground salt and pepper
1 teaspoon mustard powder or ½ teaspoon made mustard
2 ripe ready-to-eat pears (Comice or Conference)
Lemon juice
3 oz Roquefort cheese, crumbled
Handful walnut halves, roughly chopped
Rocket leaves
Make the vinaigrette by placing the oil, vinegar, salt, pepper and mustard in a screw-topped jar and shaking well. It will settle so shake again immediately before using.
Peel, halve and core the pears. Brush with lemon juice to stop them going brown. Slice long ways and divide between 4 plates on which you've already placed some rocket leaves. Scatter the walnuts and cheese over and drizzle with the vinaigrette. Serve immediately.
If you're not keen on blue cheese, use feta instead.
A small dish of cold soup may seem a strange choice for a Christmas starter but leeks are in season in winter and the soup is light and refreshing, making a pleasant change.
Vichyssoise
10 oz leeks (white parts only), washed and finely shredded
1 small onion, peeled and finely chopped
1 oz butter
1 lb potatoes
2 pints chicken stock
Freshly ground salt and pepper
¼ pint single cream
Chives for garnish
Melt the butter in a pan and add the leeks and onion. Cover and allow to sweat for about 5 minutes. Meanwhile peel and dice the potatoes. Toss in the butter with the leeks and onion then season and add the stock. Bring to the boil, cover and simmer for about 30 minutes or until the potatoes are soft.
Whizz the vegetables in a liquidiser until smooth. Return to the pan and add the cream. Chill and refrigerate until needed. Serve garnished with chopped chives.
For a very classy fishy starter, no recipes required! Simply serve best quality Scottish smoked salmon with thinly sliced brown bread and butter and a slice of lemon. Or roll smoked salmon around seasoned cream cheese and slice into attractive chunks. Or try some nice fat prawns on a bed of lettuce, garnished with a couple of shell-on prawns, with a side dollop of Marie Rose sauce.
Marie Rose sauce
3 tablespoons mayonnaise
2 tablespoons tomato ketchup
3 tablespoons double cream
1 teaspoon Worcestershire sauce
Squeeze lemon juice
Mix together the mayonnaise, tomato ketchup, cream and Worcestershire sauce. Add lemon juice to taste.
For a retro Christmas dinner starter, try this recipe for Florida Cocktail. It might sound old-fashioned but uses seasonal citrus fruit and tastes delicious as well as startling the palate into readiness for the main course.
Florida Cocktail
2 oranges
2 grapefruit
2 oz caster sugar
1 teaspoon runny honey
Cut the oranges and grapefruit in half and carefully remove the segments of fruit and place in a bowl. Save any juice that comes out in a basin and squeeze the skins to extract as much as you can from them.
Strain the juice into a small saucepan with the caster sugar and honey and slowly heat until the honey and sugar have dissolved. Pour the fruit segments and mix gently. Refrigerate until well-chilled.
Divide the fruit and syrup between 4 glass serving dishes. The more pith you remove from the fruit segments the prettier the final dish will look. For a real retro touch, before placing the fruit in the serving dishes, run a halved lemon around the rims of the serving dishes before dipping in caster sugar. Allow to dry for a frosted effect.
You might also like...