Seasonal Fish for Good Friday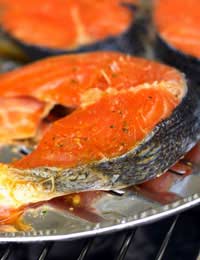 The tradition of eating fish at Easter on Good Friday stems from a Roman Catholic custom. Friday to Catholics is a day for penitence, and not eating meat, which is said to make man lusty, is an aid in that. As Good Friday commemorates the death of Christ, it is considered all the more reason to be contemplative and not eat meat.
Fish is one of the simplest foods to cook and it tastes delicious. It's also good for us, being low in fat and full of nutrients. It doesn't have to be a Friday, Good or otherwise, to eat it!
The recipes we've chosen give instructions for baking, grilling and frying fish, and though we've specified which fish to use, you can use different varieties depending on what fish is in season. Experiment and enjoy!
Simple Chilli Salmon
This recipe adds a zing to what's become a very familiar fish.
4 salmon fillets
Sweet chilli dipping sauce
Freshly ground black pepper
Preheat the grill. Place the salmon a greased baking sheet and season with pepper. Spread a generous teaspoon chilli sauce on each fillet. Cook under a medium grill for about 6 minutes until cooked. Serve with couscous and roasted vegetables.
Quick-fried Sea Bass
Sea bass is so delicious it doesn't need any fancy trimmings.
4 sea bass fillets
2 red peppers, cored, deseeded and sliced
Olive oil
Freshly ground salt and pepper
Gently sauté the red pepper slices in olive oil until soft. (It can take about 30 minutes to get properly soft.)
Meanwhile, quickly fry the sea bass, turning once, until cooked. Serve the bass on a bed of red peppers, with tagliatelle and sautéed leeks or steamed green beans.
Smoked Haddock Rarebit
A variation on a familiar theme.
4 pieces smoked haddock
2 red onions, peeled and finely sliced
2 cloves garlic, peeled and finely chopped
8 ripe cherry tomatoes, halved
3 oz mozzarella
3 oz mature cheddar cheese
Freshly ground pepper
Olive oil
Pre-heat the oven to 190 degrees C, gas mark 5.
Sauté the onions until they begin to soften. Add the garlic and fry for 1 minute. Add the tomatoes and continue to fry for about 3 minutes. Pour this mixture into a shallow baking dish. Season with pepper. Lay the fish pieces on top and cover with slices of mozzarella. Sprinkle over the grated cheddar. Cook for about 20 minutes until the cheese is golden and bubbling and the fish flakes easily. Serve with a green salad and fresh crusty bread.
Fish Pie
Many fishmongers now sell a fish pie mix.
1¼ lb haddock or fish pie mix
½ pint milk
6 peppercorns
1 bay leaf
1 onion, peeled
2 oz butter
2 leeks, washed and finely chopped
4 oz mushrooms, wiped and chopped
3 tablespoons flour
¼ pint single cream
2 tablespoons chopped dill
2 lb potatoes
1 tablespoon butter
1 egg, beaten
Put the fish or fish pie mix into a saucepan with the milk, peppercorns, bay leaf and onion. Bring to the boil and simmer gently until cooked. Remove the fish from the pan and flake. Set aside. Discard the peppercorns, bay leaf and onion but retain the cooking liquid for the sauce.
In another pan melt the butter and sauté the leeks until almost tender. Add the mushrooms and continue to cook for 3 minutes. Add the flour and mix in well. Add the cooking liquid from the fish and stir until well-blended. Bring to the boil, stirring as it thickens. Add the cream, cooked fish, dill, and season to taste. Place in an oven-proof pie dish.
Preheat the oven to 200 degrees C, gas mark 6.
Put the potatoes in a pan with water and bring to the boil. Cook until tender. Drain and mash with 1 tablespoon butter. Spoon over the fish mixture (or use a piping bag). Cook for about 10 to 15 minutes until the potato starts to get a skin, then brush with the beaten egg and return to the oven to cook for another 15 minutes until golden brown. Serve with a green vegetable – broccoli or beans – and carrots.
You might also like...