Easter Cake Recipes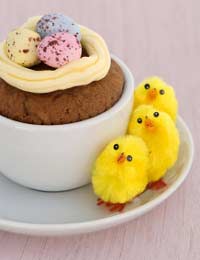 Easter is a time for baking at home with your family. Try our cake recipes – such as the recipe for Hot cross buns or, below, a citrus cake decorated with seasonal flowers.
What's in Season?
Easter falls in early or mid spring, when the food season starts in earnest. A traditional Easter lunch consists of lamb with rosemary, baby carrots, and the first new potatoes if they're available. For the baker, Easter means a raid on the store-cupboard: the summer fruits aren't ready yet, which is why traditional Easter cake recipes were made with dried fruit, marzipan, and crystallised flowers.
Take a look in the garden: there are plenty of edible flowers that can be used to make a pretty cake topping. But be careful – some flowers are poisonous! Edible flowers include nasturtiums (peppery), sweet violets, rosemary flowers, roses, lavender and marigolds.
Orange & Lemon Cake with Crystallised Flowers
You can choose any edible flowers to decorate this cake. But rosemary flowers are simply perfect, and making them into decorations is so easy. You'll be rewarded by admiring comments and envious eaters !
You need:
8oz margarine
12oz self-raising flour
12oz caster sugar
Pinch baking powder
2 eggs, beaten
5tbsp milk
Zest of one lemon and two oranges
3oz icing sugar
Juice of one lemon
Sprig rosemary
To fill and decorate:
lemon curd or marmalade
Rosemary flowers, egg white and caster sugar
First you'll need to make the flowers – this should be done a day ahead. Gently wash the flower sprigs and put to dry on kitchen towels. They need to be completely dry before you coat them. Beat the egg white and put it into a small bowl. Put the caster sugar into another bowl. Dip the flowers first in egg white, then sugar, and put them onto a wire rack to dry overnight.
Preheat the oven to 180 degrees C and line and butter two 8" cake tins. Cream the margarine and sugar, then sift over the flour and baking powder and stir in with the beaten eggs and milk. You should have a smooth batter. Grate over the orange and lemon zest and stir in, then pour the batter into the tins, level, and bake for 30-40 minutes.
Don't open the oven door until 25 minutes have passed, but then keep an eye on the cakes. They're ready when golden and risen or when a skewer comes out cleanly.
Put the lemon juice and rosemary sprig into a small pan and warm it to infuse. Sift in the icing sugar and stir to make a syrup.
When the cakes are ready, don't take them out of the tins. Poke holes all over the sponges using a skewer. Pour the syrup all over the cakes, slowly, letting it sink into the holes. Cool in their tins, then turn onto a wire rack. Spread lemon curd or orange marmalade over one sponge and top it with the second. Put onto a serving plate.
Use a brush and a little more jam, warmed, to stick on the crystallised flowers. When they're all stuck on, dust with icing sugar to serve.
You might also like...